Most people first go to the store, choose a tile there, and then start thinking of how to lay it in the house. It may turn out, for example, that with a corridor width of 1 meter, rather than taking 2 tiles of 50 cm each or 3 tiles of 33 cm each, they try to lay two tiles of 40 cm each and cut another one into pieces – just because they did not think that there were other sizes. There are other extreme examples. A designer establishes a certain hypothetical tile size in a project that visually fits nicely in the room, but, unfortunately, does not exist in nature. One of my acquaintances tried for a long time to find a 33х85 cm floor tile, until he realized that the size was coined out by the designer himself.

This is why we have decided to list the typical sizes of the most common tiles in our market, so that you might have some idea what to expect in the stores, and be able to chose the right sizes for your installation. Of course, apart from the sizes listed by us, there are other sizes. We are listing only the most typical ones.

Note that the size stated by the manufacturer is usually an approximate of the actual size. The difference can be up to 5 to 7 mm. That is, if you want a 30x30 cm tile, you can buy a 29.7х29.7 cm or 30.2х30.2 tile. In all catalogs, samples and documents, only the approximate sizes are stated. However, from the conveyor come out tiles of completely different sizes every time (the sizes vary due to the behavior of clay during firing). Therefore, if you are trying to calculate your installation down to a millimeter, then be sure to ask the seller what are the actual sizes of tiles in stock that you plan to buy (he may not know this, but he has to measure and inform you). Popular approximate sizes are given here. For more information, read the article What is a tile caliber and why does it matter when buying tiles?
Floor tile sizes
Tiles suitable for laying on the floor are divided into two broad categories – the tile itself and porcelain stoneware. Simply put, porcelain stoneware is a very durable tile, pressed under high pressure and baked at a high temperature, and so can withstand heavy stress. It has no pieces of granite in it.

Since the floor is constantly exposed to stress, not all tiles can endure such stress without cracking. This is why porcelain stoneware is often laid on the floor. However, if the area is a low traffic area (for example, the floor in the bathroom), then a tile can be laid there. The smaller the size of the tiles, the harder to break them. Therefore, 20x20 cm tiles are most commonly used as floor tiles. Some firms produce floor tiles of size 30x30 cm. But still, for such a size, it is better to lay porcelain stoneware.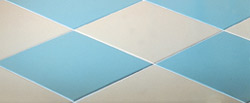 A tile of size 20x20 cm
The following are the most popular sizes of floor tiles:

- 10х10 cm
- 10х20 cm
- 15х15 cm
- 20х20 cm
- 30х30 cm

Sizes of porcelain stoneware
Porcelain stoneware is produced in large number of sizes. The most popular sizes of floor porcelain stoneware are 30x30 cm, 33x33 cm, 45x45 cm, 50x50 cm and 60x60 cm. Some parts of porcelain stoneware are produced first in a square size, and then cut into parts. This gives rise to multiple derivatives – for example, you can get 25x50 cm and 12.5x50 cm from 50x50 cm, while from 33x33 cm you can get 16.5х33 cm and 16.5х16.5 cm.

Most popular sizes of porcelain stoneware:
- 15х60 cm
Porcelain stoneware of size 33x33 cm – one of the most popular sizes
- 16.5х16.5 cm
- 20х20 cm
- 25х50 cm
- 30х30 cm
- 30х60 cm
- 30х120 cm
- 32х32 cm
- 33.3х33.3 cm
- 40х40 cm
- 41х41 cm
- 42х42 cm
- 45х45 cm
- 45х90 cm
- 50х50 cm
- 50х100 cm
- 60х60 cm
- 60х120 cm
- 100х200 cm
Sizes of wood-look tiles
Recently, more and more factories have been producing wood-look tiles. For a tile to resemble a flooring board more accurately, it is necessary to make it in appropriate form – long and extended. A long ceramic tile will break easily, so most of the vast majority of wood-look tiles" is porcelain stoneware.

Actually, it is quite expensive to make thin and long porcelain stoneware. That is why many factories started with making square dimensions – 30x30 cm, 45x45 cm and 50x50 cm. Then they began to produce thin but short (compared with a flooring board) porcelain stoneware. Its most typical sizes are as follows: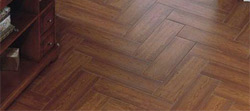 First-wave wood-look porcelain stoneware

- 15x45 cm
- 12х60 cm
- 15х60 cm
- 19х60 cm
- 20х60 cm
- 14х66 cm
- 15х66 cm

For the last 2 years, many longer sizes have appeared. They are considerably more expensive, but are more similar to a board.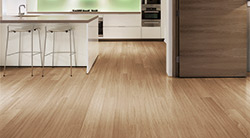 Wood-look porcelain stoneware of size 16х99 cm
- 11х45 cm
- 13х80 cm
- 20х80 cm
- 11х90 cm
- 15х90 cm
- 22,5х90 cm
- 16х99 cm
- 25х100 cm
- 14х120 cm
- 19х120 cm

It is most likely that in the near future, there will be even longer sizes.

Of course, the main factor in choosing a tile is not the size, but how much you like the appearance. Therefore, it is better to first go to the store and choose what pleases your eyes, and then ask the seller if there are other sizes in the collection chosen. Many collections are produced in different sizes, so it is quite likely that even if the supplier has only tiles of size 33x33 cm, you can still place an order for him to bring you a 50x50 cm tile.
Tile thickness
Floor tiles usually have a thickness of 6.5 to 11 mm. As for porcelain stoneware, it is divided into two broad categories – ordinary and thin porcelain stoneware. The most common thickness is 8 to 10.5 mm, while its stronger varieties come in 11, 12 and 14 mm. These thicker tiles are suitable for a heavy traffic areas (supermarkets, airports, car parks, etc.).

Be aware that sometimes, in the same collection of porcelain stoneware, different sizes may have different thickness. For example, porcelain stoneware of size 30x60 cm can have a thickness of 9.5 mm, while porcelain stoneware of size 60x60 cm can take 10.5 mm in thickness. If you want to combine several sizes, be sure to check the thickness of each size before buying and laying.

Thin porcelain stoneware has a thickness of less than 5 mm. You can find a collection with a thickness of 4 mm, 3.5 mm and even 3 mm. This material was created and put into mass production a few years ago to facilitate installation. Due to the smaller size, it is much lighter (this is especially critical for large tiles), it is easier to lay, and it takes up lesser space. Thin porcelain stoneware is mainly used for laying on the walls (including facades) and on the floor on top of already laid ceramic coverings. In this case, the total floor level rises less than when you lay a material of thickness 10 mm. Therefore, you can avoid unwanted thresholds.

Of course, thin porcelain stoneware loses some strength, and so it does not command widespread use yet. However, if for some reason you want to use a thinner material, then inquire at the store which collections are produced in small sizes. Often, the same collection comes in two versions – ordinary and thin. Thin tiles are rarely in stock, but they can certainly be brought for you if you order.

Also check the following articles:
What is a tile caliber and why does it matter when buying tiles?
Different tile shades, or why it is dangerous to buy additional tiles 2 years later