A design of a new ceramic tile collection is most often born inside the manufacturing company. Manufacturers usually employ a team of designers, each of whom is educated in different fields - most are architects and interior designers, some are artists, furniture and art-object designers, graphic designers, and so on. Each member of the team brings his/her ideas to the table, which are then discussed and passed on to a team of technical specialists, who try to bring these ideas to life.
Sometimes, manufacturers invite designers from the outside in order to receive a fresh, unbiased opinion or help with a pompous release. In these cases all press-releases will mention the name of the designer that worked on the new collection (for example, for LEA Ceramiche Dego Grandi developed the new collection Gouache 10. Luca Nichetto developed Kaos for Refin, etc.). Rarely manufacturers will invite clothes designers to work on new collections - on one side, their names are always out there for everyone to recognize, while on the other, their specialty is on the other spectrum of design. Nevertheless, there have been several cases in tile history when manufacturers have hired clothing designers to create a stir about their new collection. A good example is Marazzi's cooperation with Paco Rabanne, or Cerdisa's with Versace.
There are some current cases of cooperation with designers on new collections, as well. So if you are a fan of a specific brand, nothing will stand in your way of enjoyment of the brand's new tile collection in your bathroom for several decades. If you really want to follow fashion, you will need to change tile in your home every year, violently knocking off the out-of-date tile and solemnly installing new, fashionable one during your vacation.
VERSACE tile
The most well-known example of a fashion house that has spread its sphere of influence on ceramic tile is probably Versace. Supposedly there is even a company named Ceramiche Versace that manufactures tile and sells it under Versace label. In reality, there, of course, is no such company, rather in 1997, Italian factory
Gardenia Orchidea
signed a contract with Gianni Versace and opened a separate line that is dedicated to producing Versace style tile.
There are only several collections in this line but they are all amazing - arrant classic tile with Swarovski crystals that can easily be installed in luxurious palaces. Though internationally Ceramica Versace is not that popular and preferences are given to new trends, unusual effects and new types of surfaces, and Ceramica Versace almost hasn´t changed throughout the years. But in Russia - a country where brands, classicism, palace style and small tile size is honored - this brand is very popular. We have to note that the largest distributors of this brand in the world are located in Russia! And that's considering that this tile is quite expensive and prior to buying you need to realize that you aren't buying fashionable tile that is produced by Versace - you are mostly paying for the logo on the boxes.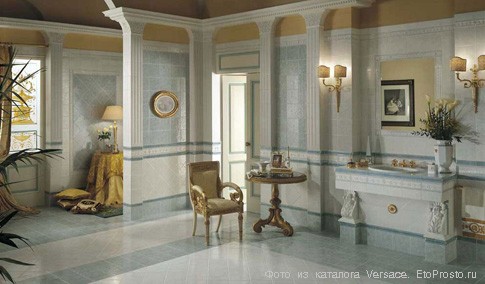 The Eden collection from Versace - a sales hit on the Russian market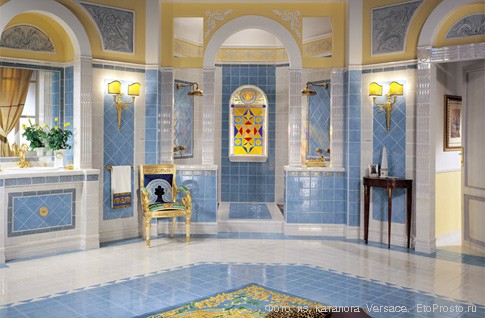 The Luxor collection from Versace - another sales winner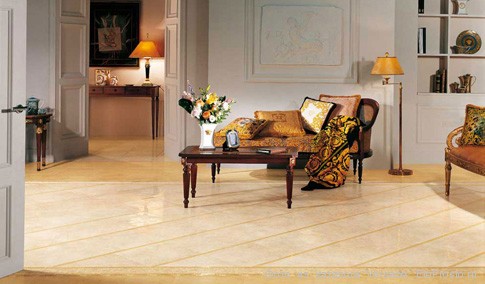 In general, this is just a regular beige floor, but it is from Versace!
VALENTINO tile
New in 2010 from Piemme-Valentino:
In 1977, Italian factory Piemme signed a contract with Valentino and started to realize the maestro's fashion ideas in its tile collections. Valentino still participates in approving new collections and creates different difficulties for the factory's managers with his non-traditional sexual orientation. Piemme positions itself as Piemme-Valentino and has even participated in building the first Valentino residence in the world - Valentino Designer Residence in Modena.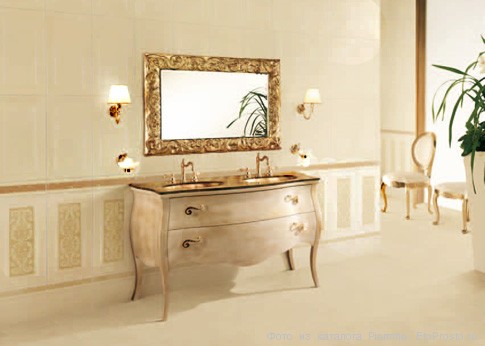 The 2010 Boiserie collection from Piemme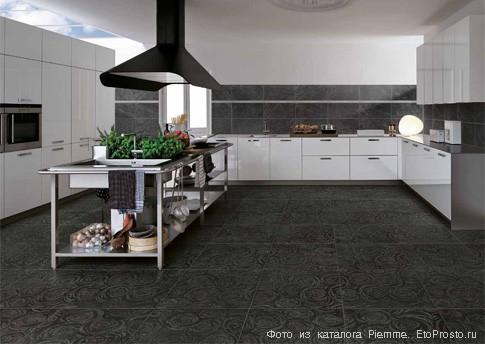 The Beauty collection from Piemme
ARMANI tile
Armani decided not to stop at just tile and in January of 2011 a new Armani/Roca bathroom project will go public. Spanish factory Roca - a producer of bathroom equipment and ceramic tile - and the Italian designer decided to create everything for the bathroom, from light fixtures to wall color and floor tile.
At the moment we only know that designers decided to separate the bathroom into several zones with glass partitions. These sections will be designated for beauty, health and basic human necessities. The first approximate pictures will not likely make a grand impression for most Russians (after all, it's not Versace), but we know that the project will be a minimalist one and will be popular in some circles. You can take a look at and purchase the ready project at Armani Casa boutiques.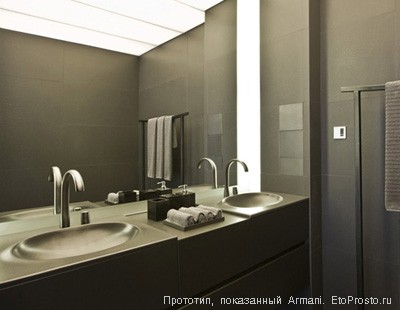 Armani/Roca new project prototype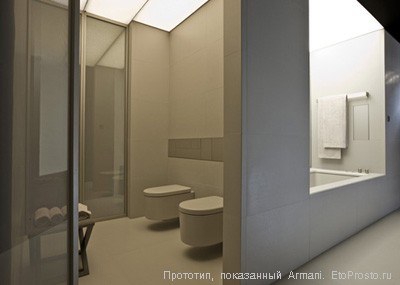 It's a bit dull, but it's Armani
PAUL SMITH tile
Who doesn't know the famous Paul Smith stripes?! This British designer has made a fortune creating suits, bags, shoes, wallets, watches, pens and other accessories with his famous bar-code and now he has moved to tile. In 2012, Italian factory FAP Ceramiche released a new series called Visionary, in which Nastro decors will have to be purchased by all fans of this British fashion designer.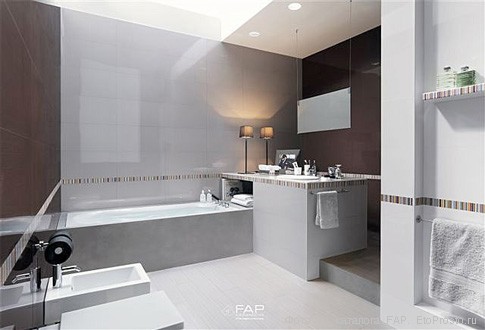 A perfect option for a desginer who is working on a man's bathroom
Tile from MAX MARA
To speak honestly, Max Mara fashion house does not produce designer tile, but several years ago Italian factory ABK enticed one of Max Mara leading designer to switch camps and work with them on tile design. So, unlike fashion houses that give one of their elements to a tile collection, or even just name, Max Mara has given up its most precious possession - all of ABK's latest tile collections have been designed by the same person who designed Max Mara's main clothing collections.
| | |
| --- | --- |
| | |
| What kind of fashion would it be without shoes | The Etoile collection from ABK |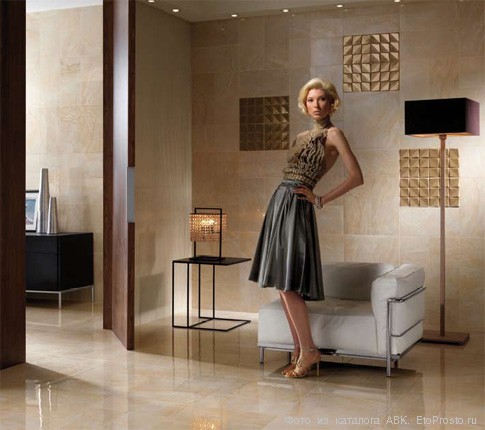 If there is a beautiful woman in your house any tile will look great. The Axolute collection from ABK
AGATHA RUZ DE LA PRADA tile
The Spanish symbol of love, humor and optimism has been working with the Spanish factory Pamesa since 1997 and in the year 2000 has released its Agatha collection, which became so popular that it had to be re-released in 2005 with new decors and again in 2009 with new sizes. The collection is Pamesa's signature card and sells like hotcakes and Agatha herself regularly visits international tile exhibitions and photographs with it.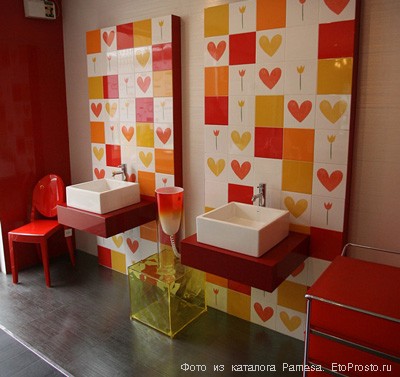 For over 10 years now the Agatha collection has been selling like hotcakes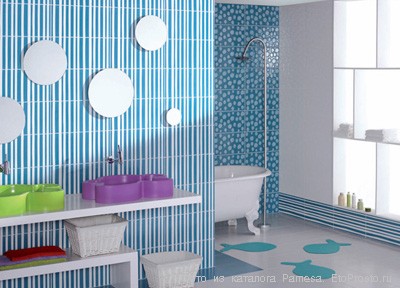 Joyful tile from Pamesa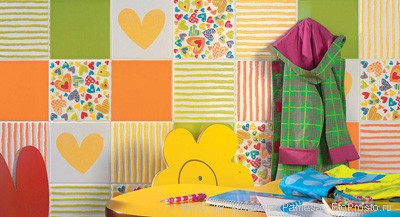 The famous hearts by Agatha Ruz De La Prada are now printed on tile
Tile by KENZO
The German factory Villeroy&Boch, which manufactures not only dishes but ceramic tile as well, has designed a tile collection Kenzo Kimono, together with the fashion brand Kenzo and tough the collection is quite old, you can still buy it in several stores.
By the way, the Japanese topic has been popular in our country since the opening of the first sushi restaurants, so if you are searching for Kimono tile, you will first encounter Kimono tile from the Russian factory Kerama Marazzi (their Japanese collection) and if you search for Kenzo tile, you will come across Kenzo tile from the Russian factory Nefrit Keramica. We haven't heard, though, that Kenzo has signed an agreement on tile production with any of the abovementioned, so if you want to purchase real Kenzo tile, you need to look for Villeroy&Boch.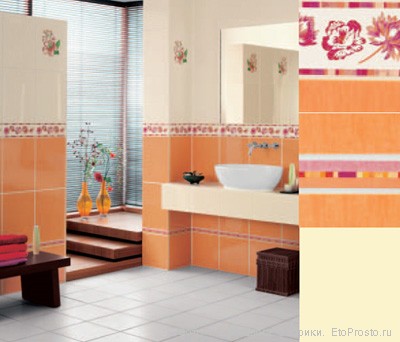 Kimono collection from Villeroy&Boch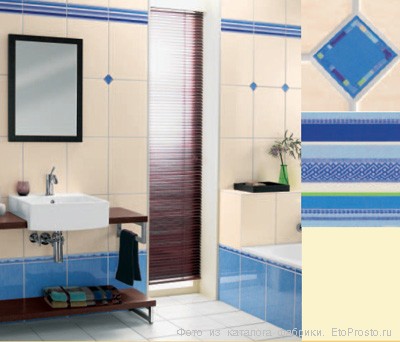 It appears that Kenzo really tried
ROBERTO CAVALLI tile
In the past few years, in order to develop its own Cavalli Home direction, Cavalli has signed contracts with manufacturers of lighting fixtures, wallpaper, bedding, rugs, tapestry, dishes, furniture, Murano glass and, of course, tile. Ceramiche Ricchetti became the chosen tile producer and, having purchased the brand license, released 2 collections - Diva and Agatha.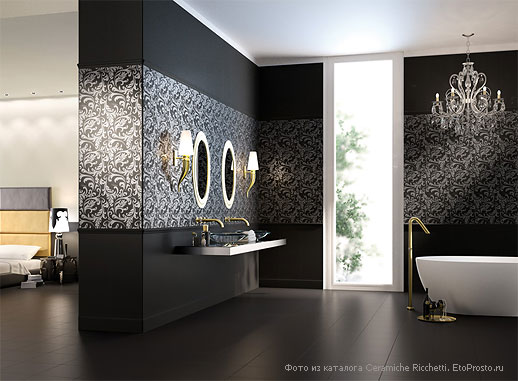 Diva tile from Roberto Cavalli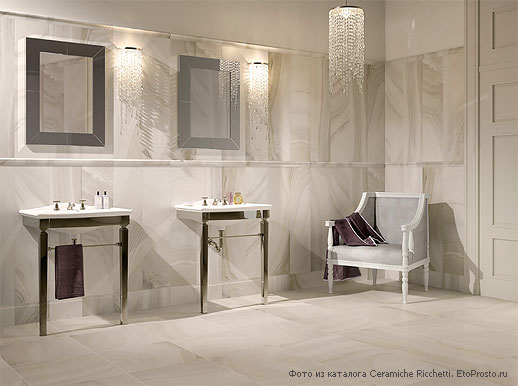 Agata tile from Roberto Cavalli
VIVIENNE WESTWOOD & KRIZIA
The Italian factory Refin has separated its designer staff into a separate entity - Designtalestudio. The studio differs by the fact that it doesn't just develop new trends for Refin, it also simply creates art-objects that are then shown in galleries. In order to generate as many ideas as possible, the studio constantly invites different celebrities to create brand tile decors.
Romina Power (which Russian citizen doesn't remember her?), Karim Rashid (who designs for Alessi, Miyake and Prada), designer monster and laureate of multiple prizes Alessandro Mendini (whose works hang in different museums and who worked for Philips and Swatch), Mario Belini (who created for all types of companies like Renault, Olivetti, Yamaha and Artemide and whose works are exhibited at MoMA in New York City), as well as the head of the British fashion house Vivienne Westwood and Mariuccia Mandelli (AKA Krizia) have all created 120x160 panels for Refin.
The panel shown below is the only one from our list that can't be bought yet because Designtalestudio didn't set its production. But everything will come in time.
Designer panel Krizia
Parts of a Vivienne Westwood panel
In any case, fashion houses' fans will find what to stay happy with. The only thing that you have to remember is that these collections don't follow the latest trends in ceramic tile designs - there are separate laws and fans in ceramic tile design.