Mosaic looks fantastic as part of interior design and visually increases the size of a space. However, the cost of owning mosaic may be quite high. One of the ways to save is to buy tile with mosaic pattern. What exactly is the difference? Real mosaic is composed of many small pieces, carefully tied together (usually with the help of a metal mesh, wood, or paper backing). It may be bent, and that is the reason why it's widely used on columns, arches, and other uneven surface installations.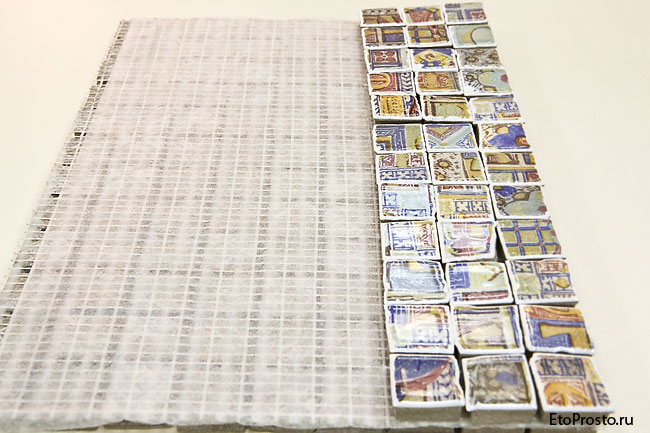 Sample mosaic with a metal mesh backing
Tile mosaic, however, consists of whole tiles with a mosaic pattern achieved by painting and/or cutting slits. Naturally, it does not bend, and is not suitable for finishing rounded surfaces.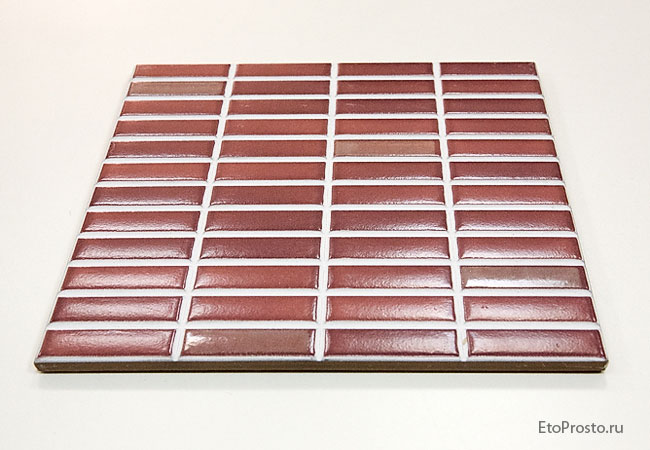 Sample mosaic tile finished surface.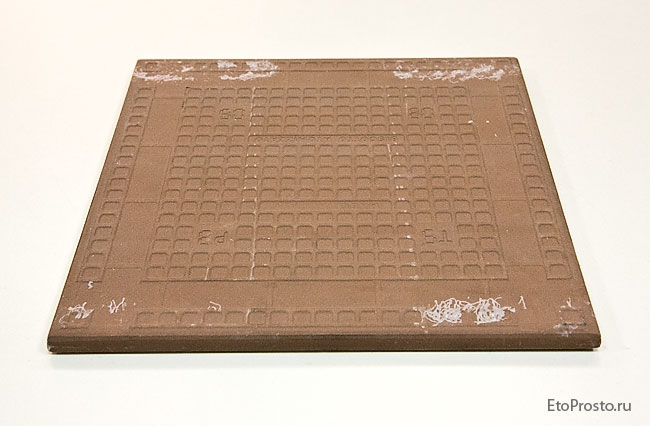 The back side of a mosaic tile
The biggest advantage of tile is the price. While regular mosaic may cost on average anywhere between $10 and $40 per square foot, the mosaic tile is significantly less expensive at $3-8 per square foot. Aside from this, installation costs are also lower for tile. All in all, there are significant savings to be had with tile with little or no visual difference if properly installed. Can you tell the difference between true mosaic and mosaic pattern tile?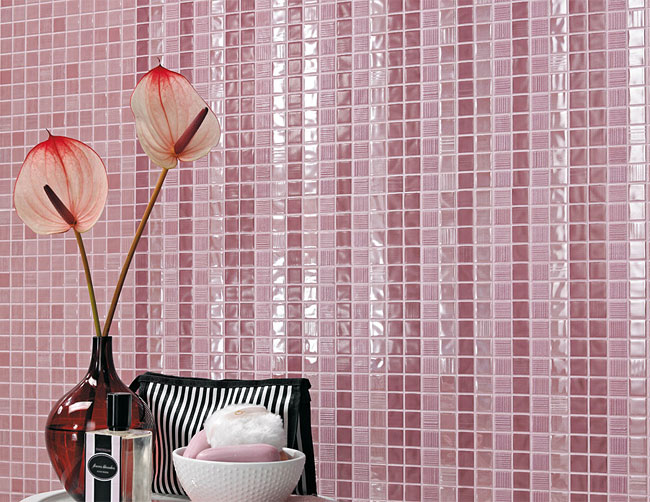 Tile sample resembling mosaic
How to pick mosaic tile
The primary guideline is this: always think about the way the tile would look on the wall after installation. What does that mean? Say, for instance, you are in a store and see the following tile panel.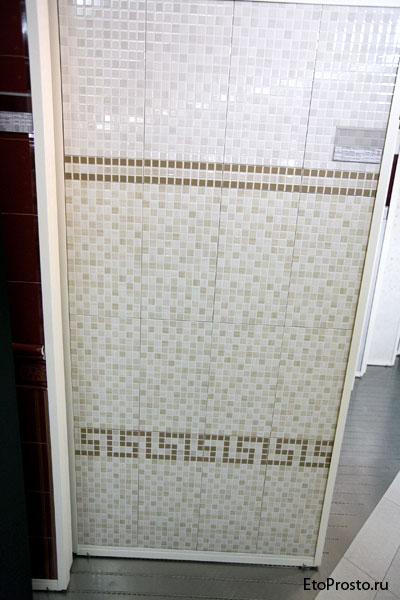 Mosaic tile on a panel in a store. For demonstration purposes, this panel is pre-grout and contains visible joints.
At a first glance, it looks like mosaic. How can you tell how good it is? Take a closer look at the way it was constructed.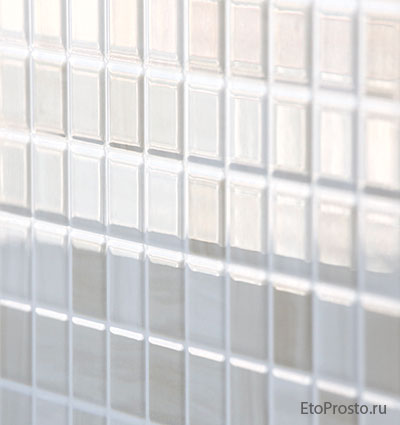 Mosaic tile close up
This tile does not contain surface slits. It does protrude some from the base, but its 3D appearance may be largely attributed to the glossy manufacturing technique and its color pattern (the darker lines on the perimeter create visual relief). In reality, the entire surface of the tile is covered with a glossy finish. Since you would not put grout between the small mosaic squares, after installation and grout laying of the larger pieces, you would be able to clearly see the joints and tell that the mosaic is not real. The biggest advantage of such a tile is its price and a visual expansion of the space where it's installed.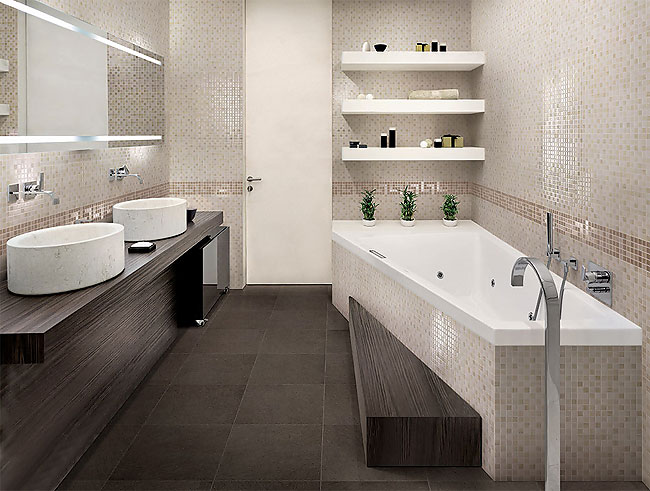 This mosaic tile does look good, especially at a distance, when installed in a smaller interior space.
What other options are out there?

The second option is manufactured tile where only the smaller squares have glossy finish, whereas the seams between them are finished with a special filling (that imitates grout) at the factory.
Such a tile is much more interesting and resembles real mosaic after installation. However, it does have its drawbacks. There are two ways to install such a tile – to either lay grout between entire tile pieces or to extend it for seams between each mosaic slot. The former method results in small cracks between mosaic slots during transportation and delivery. This is not a defect, but rather a feature of this type of product. If you try to transport tile with grout, you would expect slight cracks or even removal of pieces en route. Here is a close up of the cracks: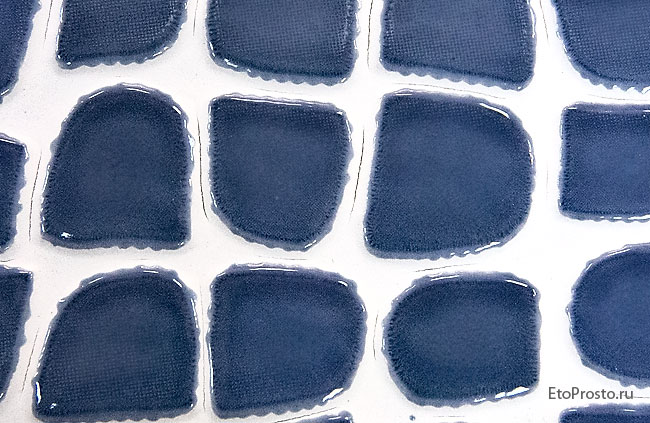 Mosaic tile that was pre-grout at the factory
To speak plainly, this is not much of an issue, and may be resolved by carefully laying grout over the cracks. But you have to make sure that the color of the grout matches the color from the manufacturer, or risk the product looking sloppy. Aside from this, the final installed product may yield some visual cues of the joints of the tile. Here is an example of this: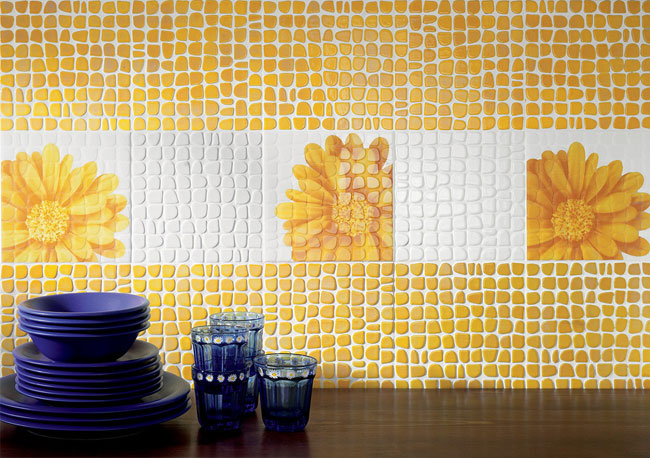 If you look carefully, joints between tiles may be seen
The second installation option would require you to spend more on grout and installation. Keep in mind that the passageways between the mosaic slots are not very deep, and the grout may easily wash out during cleaning after installation. If you attempt to force the grout in, the results may be quite disappointing.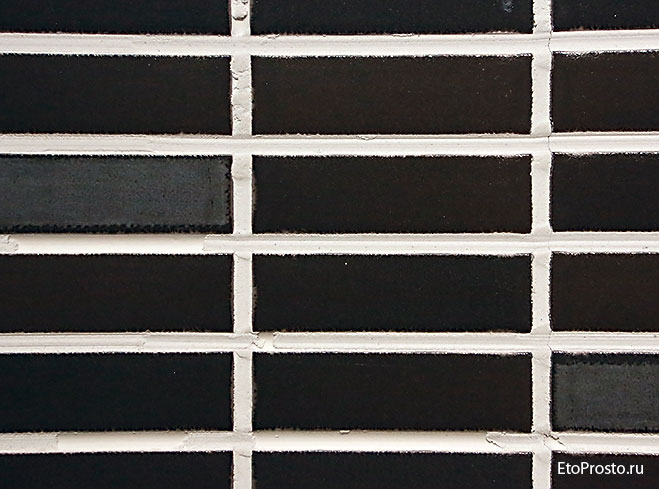 Example of poor grout installation
Of course, a professional and reputable installer would not deliver a product like this, and your bathroom should look just fine if best installation practices are followed.
Mosaic tile installation on the walls of a shower enclosure

Sample bath interior with mosaic tile installation
So which installation option is the most practical?

There is a third option – tile with slits, or deep passageways, between mosaic patterns. See the photograph below for an example.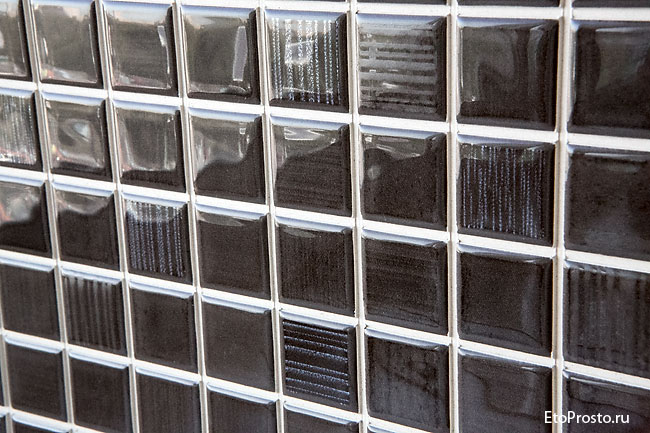 This tile has deep slits, which allows for quality grout layering
The slits between slots are straight, deep, and empty. This means that you can easily put grout in there. After the installation, you would not be able to tell that it's not real mosaic. For visual impact, we photographed tile from the first example and from the last next to each other.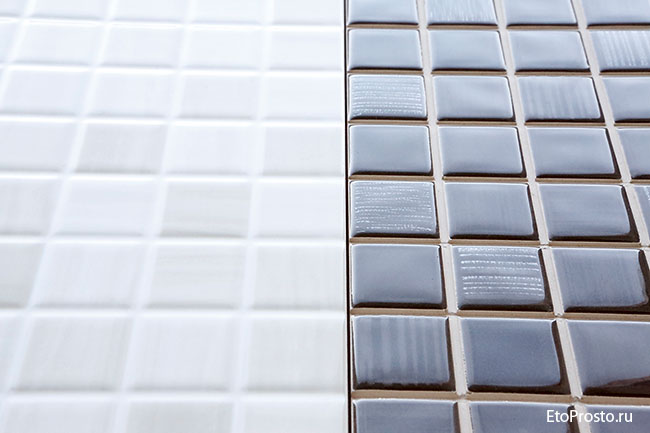 The photograph shows a big difference between two different mosaic tiles
The difference is quite stark. The only drawback is that this tile would be much more expensive than the others. But the result would look quite organic.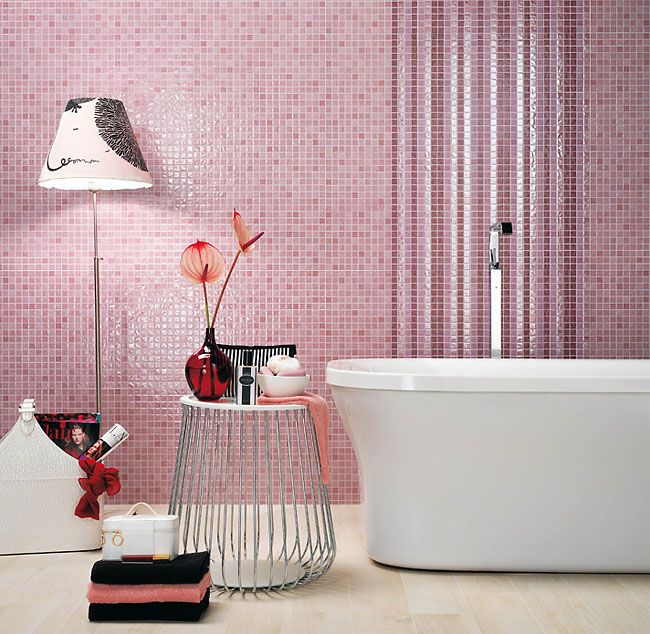 Sample mosaic tile in an interior space. Tile joints are impossible to see.
So if your wallet is thick enough, pick a tile with deep slits. This product would be easiest to install and most visually appealing, resembling the real thing.

One last piece of advice. Always pick mosaic tile in a brick and mortar store, not online. You would never be able to tell how deep the slits are just by looking at the pictures on your monitor at home. The retail store makes this a breeze. You can also pay attention at the way the grout looks on display.