This article is a continuation of our photo review of the Cersaie 2012 exhibition. To read the beginning of this report, please see Part I of the Cersaie 2012 photo review

Cersaie 2012 amazed everyone with the amount of tile that mimics stone, as no factory was left aside without putting their imitation stone tile onto every surface of the exhibition.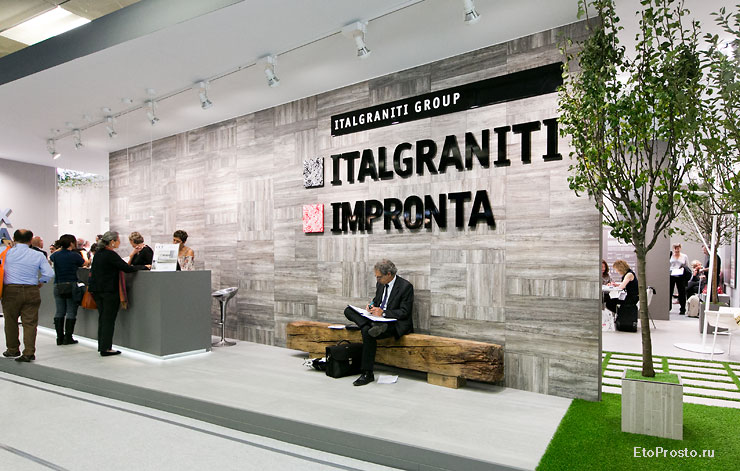 Impronta Italgraniti booth welcomes its guests with a stone-like scale
Not only imitation stone tile be seen right when one entered, it was there on the way to the inside of the booth, spread all over its floor and solemnly hung on its walls.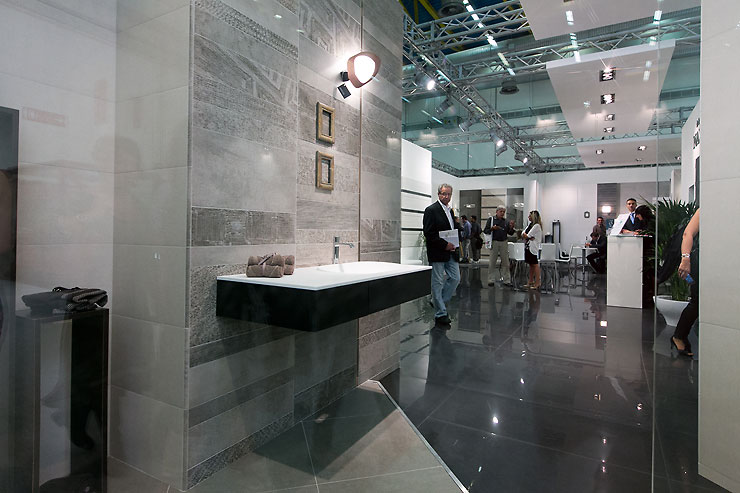 Imitation stone tile reigns over the Naxos booth
It was reflected in mirrors of every booth so you have nowhere to get away from it.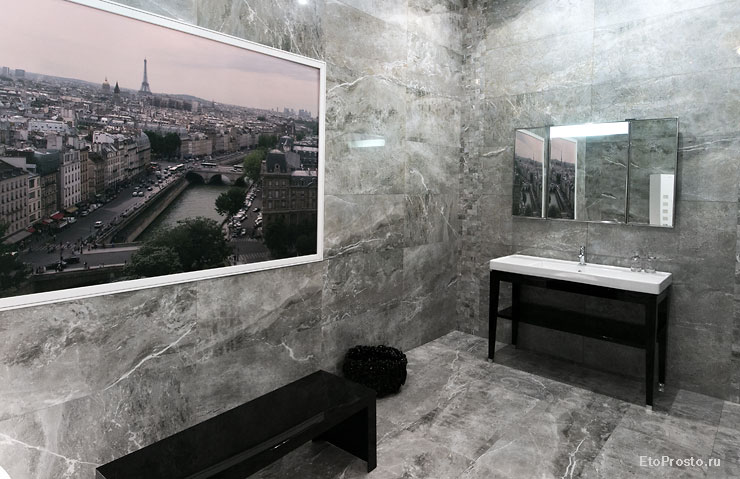 Imitation stone tile La Fabbrica
Some manufacturers that wanted to have a more elegant look, glued "stone" not on all of the walls of their booths, but only on small parts.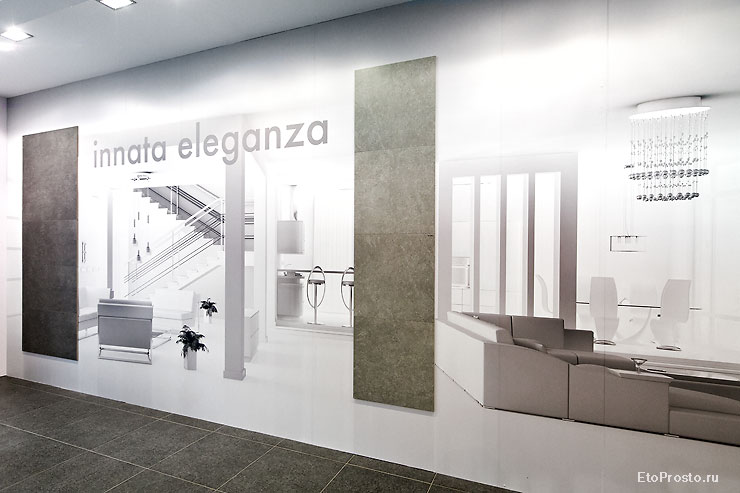 Elegant imitation stone tiling from Cedir factory
Though they clearly expresses the idea that their tile can be used anywhere from kindergarten to a ballet hall.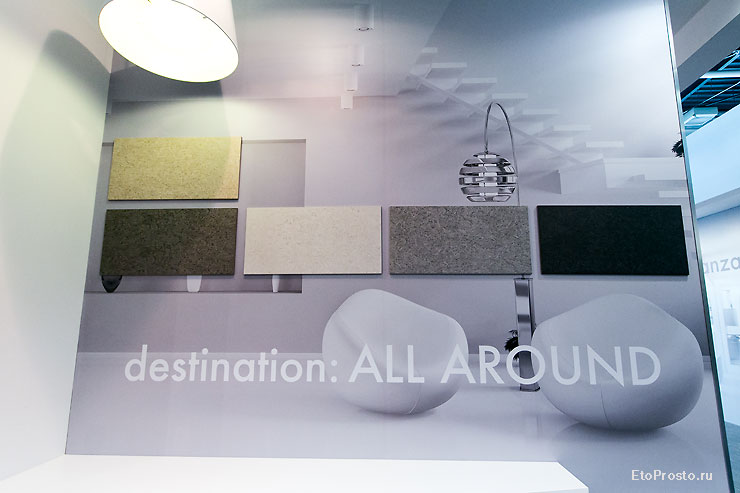 Cedir assures that this tile will look great in any room

In reality, it wasn't easy to exhibit imitation stone tile at the beginning. Several years ago, tricky tile equipment manufacturers figured out how to make commercial photo printing on porcelain stoneware. (See the article on Photo-printing on tile) The result was that today, you can print almost anything on tile - from photos of the grandmother of the plant manager, to a photo of his grandfather's favorite sports team. So far these bright images do not come out very well, while dull and very detailed images turn out better. These are: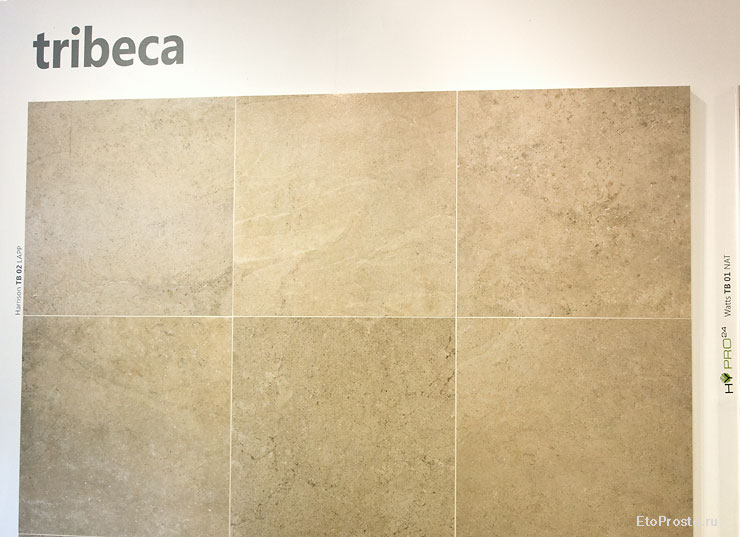 Tribeca stoneware by Mirage
Sometimes, factories start to print sharp images using in more or less the same color palette (brown/black, gray/white, etc.).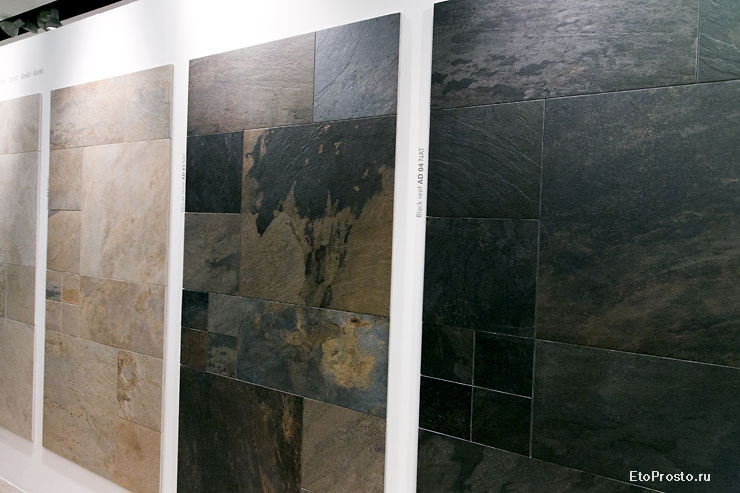 Different color variations of imitation stone tiles. Mirage factory
To print such tile they must first hit some stone ruins, make a quality, high-resolution photo, break it up into many pieces, mix the pieces and print each one on tile. The new collection is distinguished from tile that was made earlier and also looked like stone by features of great image details and originality. Typically, no tile is repeated on an area of at least 3 square meters.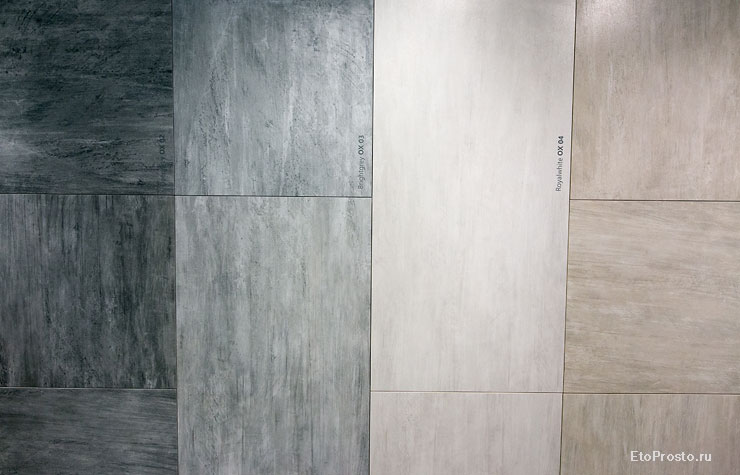 Four options of imitation stone tile from Mirage factory
Equipment manufacturers are rubbing their hands with pleasure: it's shameful not to have photo-printers and each year more and more new factories are hooked by greedy printer manufacturers.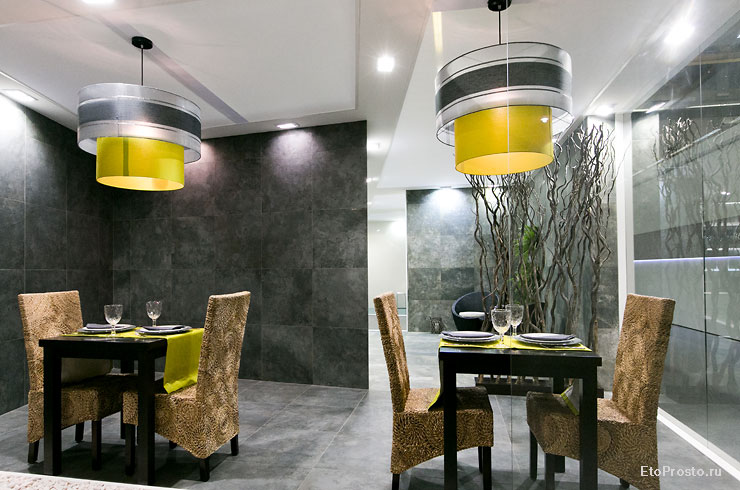 Stone interior by Portuguese factory Pavigres
Photo printers are expensive and to get back the cost of them factories will have to produce imitation stone tile for many years to come.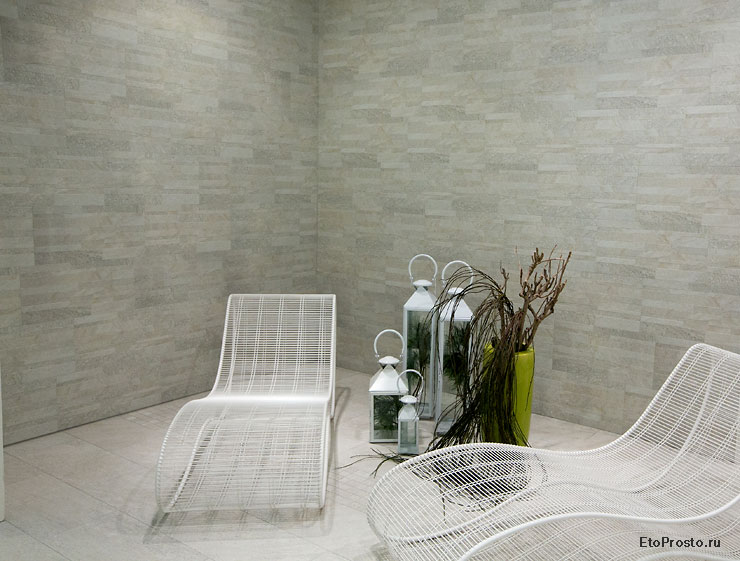 Imitation stone tile from Pastorelli factory
The aim of industrial photo-printing was to create a variety of tile options, but in reality, this only led to the fact that now there is a bunch of similar tile on the market. After the end of a working day, will you be able to diffirintiate between ABK tile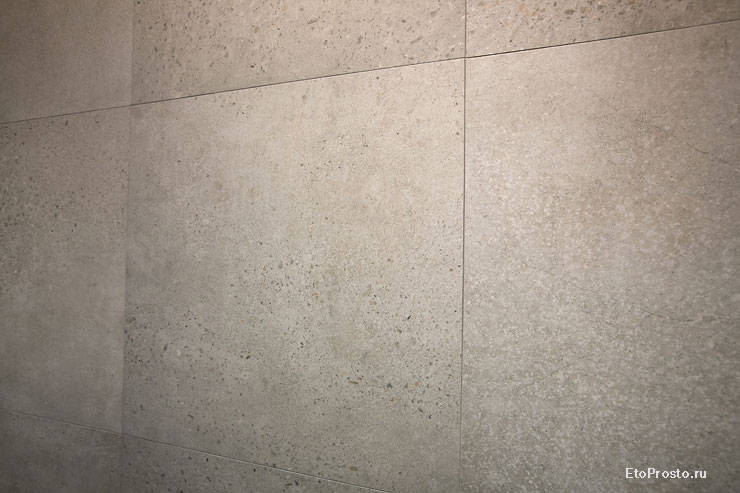 Imitation stone tile from ABK
and Marazzi?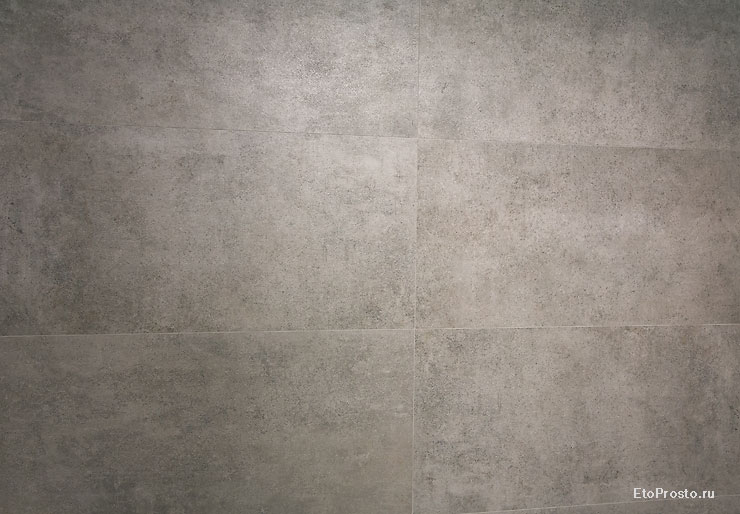 Imitation stone tile from Marazzi Italia
"Our production department told us that we can finally make dark imitation stoneware tile! It was not possible before!" - proudly stated Atlas Concorde managers at their booth. When we asked them why, they only shrugged their shoulders stating that they tried for three years and only now achieved this great capability.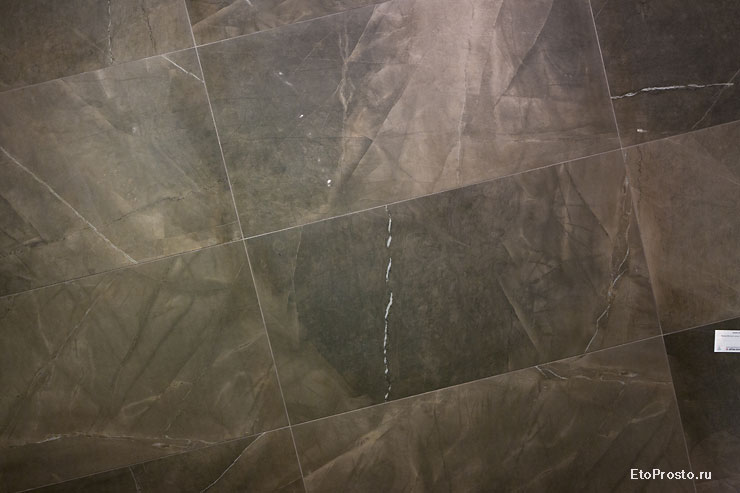 Imitation stone stoneware by Atlas Concord, from the Marvel collection
Not only Atlas Concorde now has dark imitation stone tile.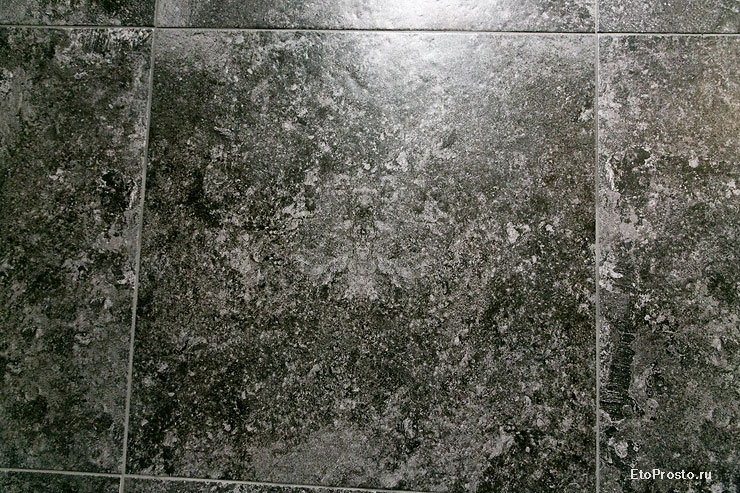 Imitation stone tile. Tagina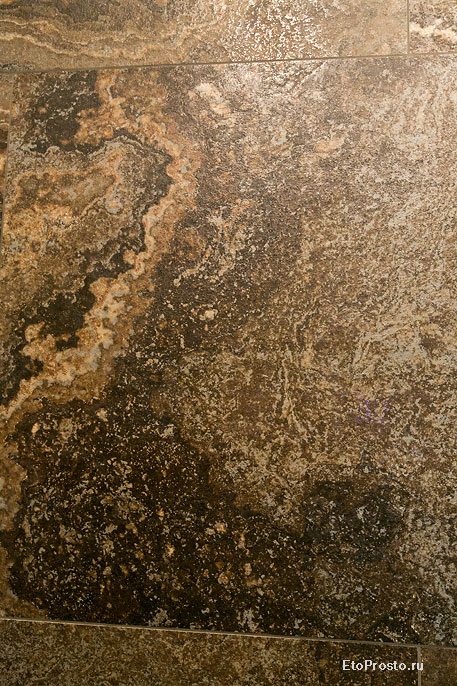 New from Impronta
The Spanish are not any worse than the Italians and can also produce imitation stone tile. .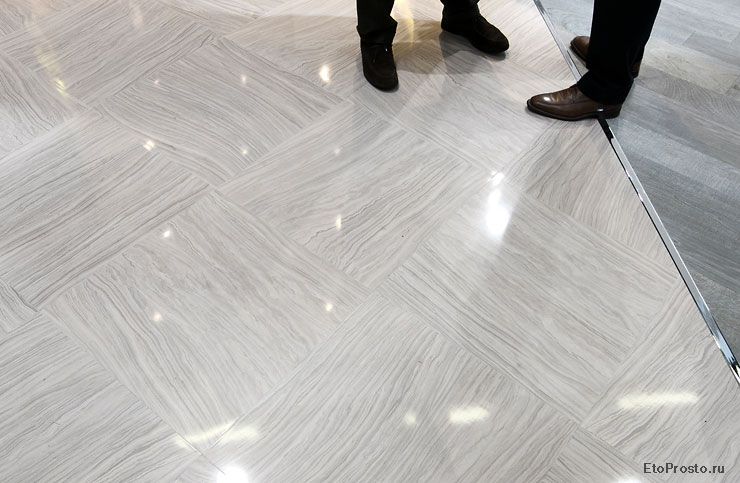 Floor imitaiton stone tile. Porcelanosa, Spain. Borneo collection
And also stick them on the floor, as well as on the walls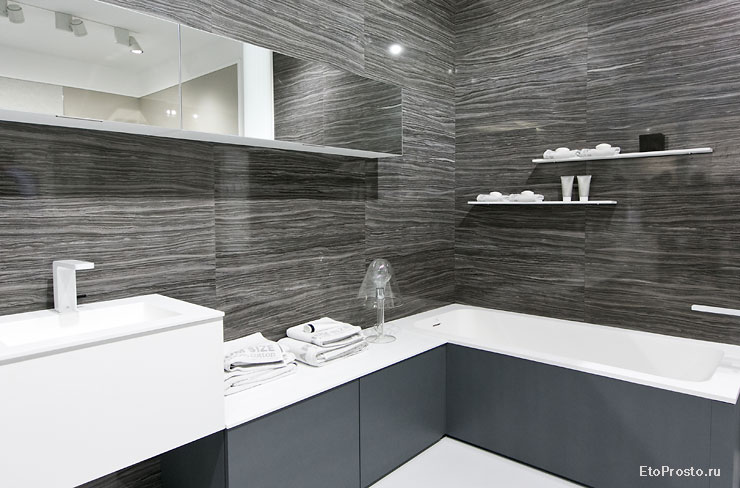 Imitation stone wall tile from Porcelanosa.
Even Turkish manufacturers can produce imitation stone tile!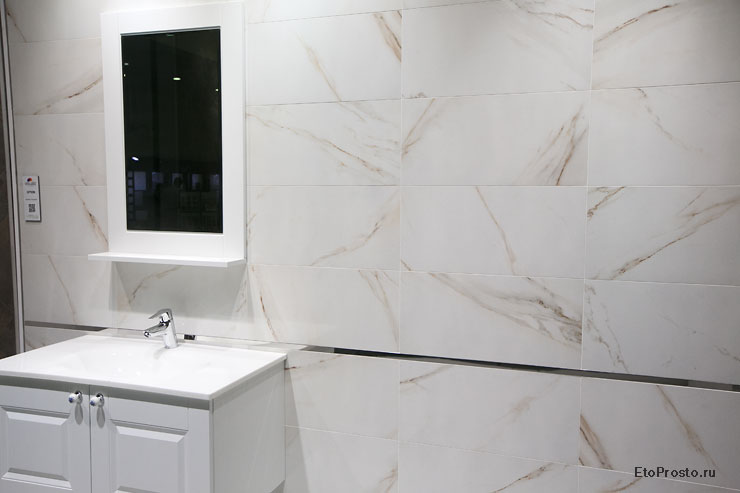 Graniser factory, Turkey. Imitation stone tile
One of popular directions in bathroom design is to decorate the floor and walls with tile of the same shade, and if some manufacturers simply install stoneware on the floor and walls,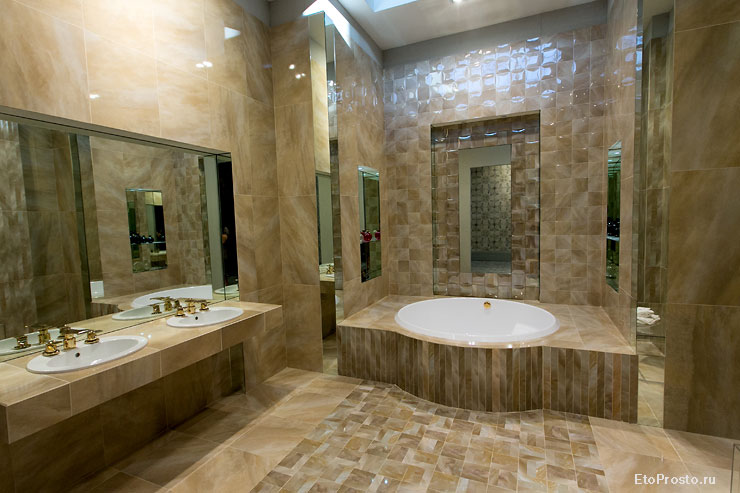 Imitation stone bathroom interior. Фабрика Tagina
while others separately manufacture stoneware and tile of the same color palette. For example, Atlas Concorde includes six shades of imitation stone stoneware (each comes in eight sizes), six shades of tile in 2 sizes, approximately twenty types of decors and approximately thirty different borders and mosaics. And this is considering that this factory released 3 different imitation stone collections in 2012.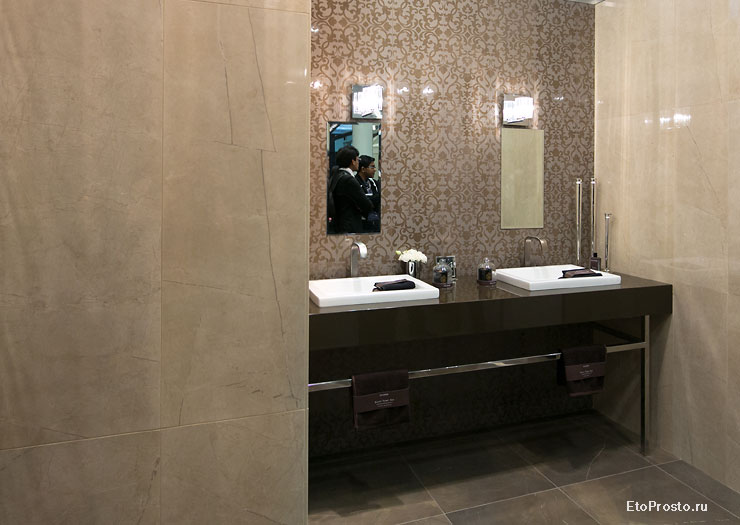 Imitation stone wall tile from Atlas Concorde
And this is Saloni with its combination of imitation tile/stoneware in the same palette.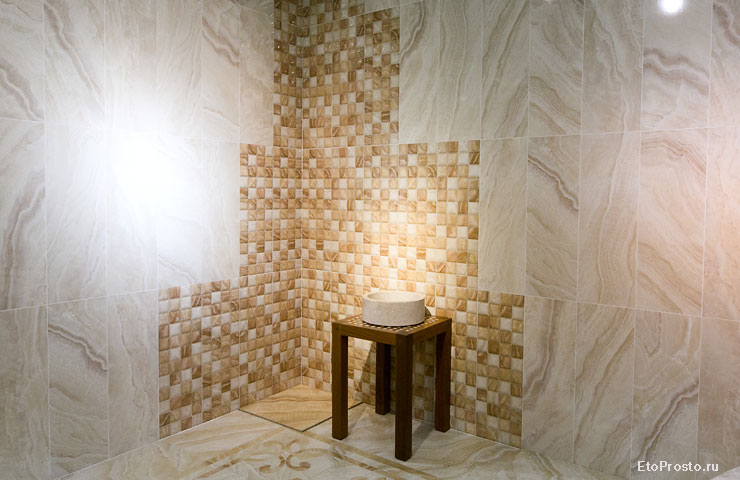 Imitation stone bathroom. Interior from the Saloni factory . Resort collection.

In order to confuse everyone, the Spanish factory Saloni created Italian decors with views of Florence.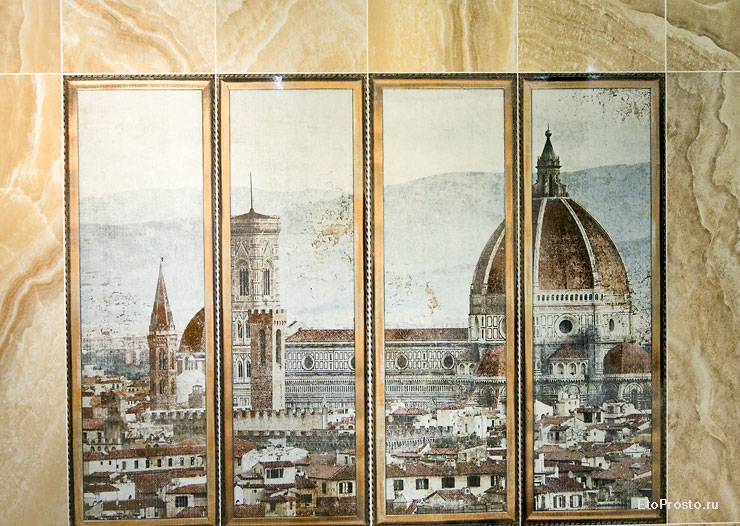 A decorative panel of the stone collection. The Saloni. factory
In general, imitation stone tile was everywhere!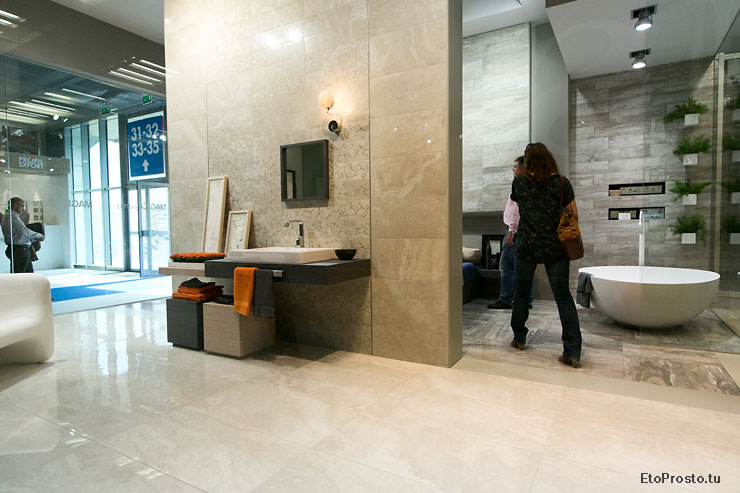 Ceramica Magica. Imitation stone tile
On the third day of the exhibition one could only remember the blue-bearded merchants in cylinders, watching you from the lacy frames of the stone booths.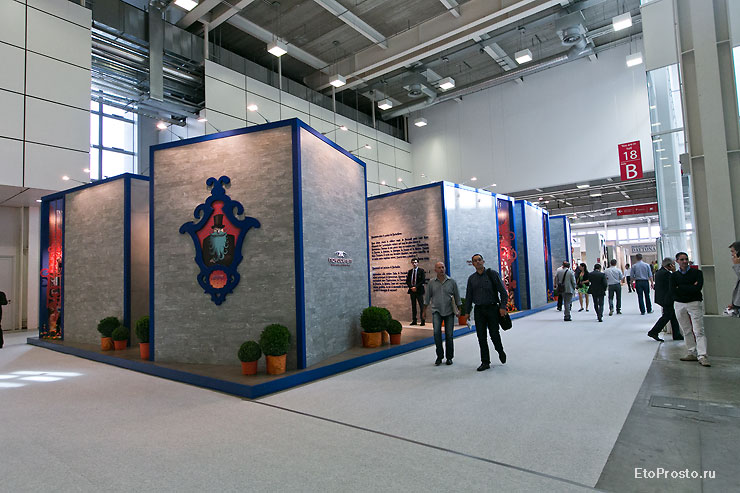 French factory Novoceram booth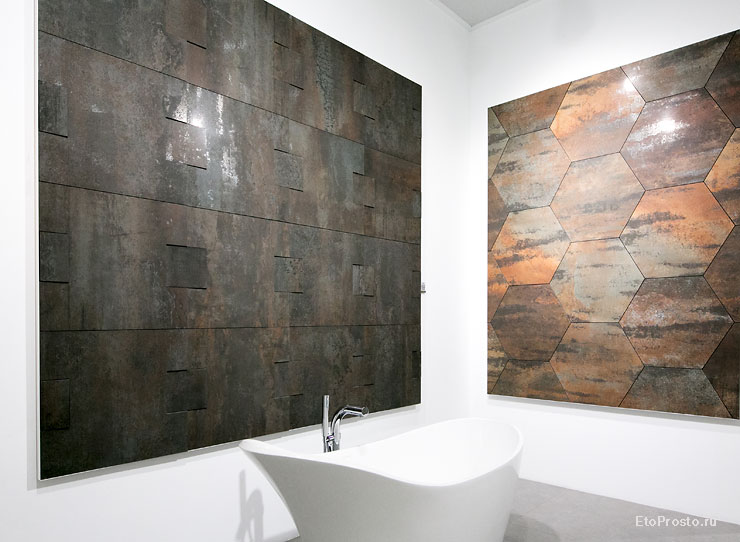 New from Apavisa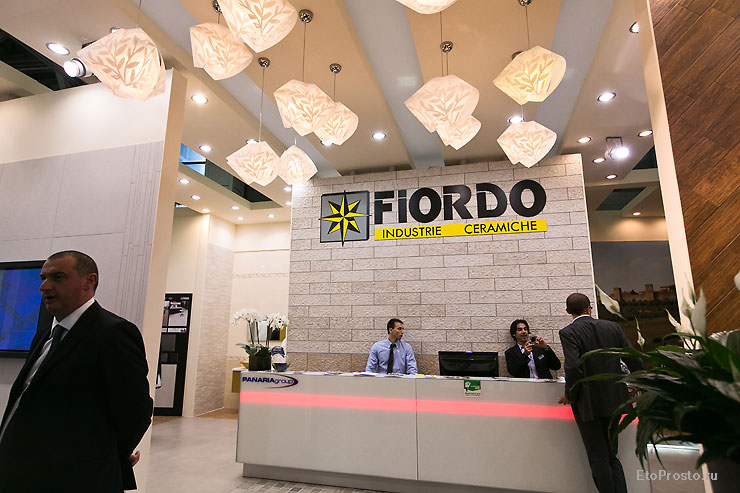 Imitation stone decoration of the Fiordo booth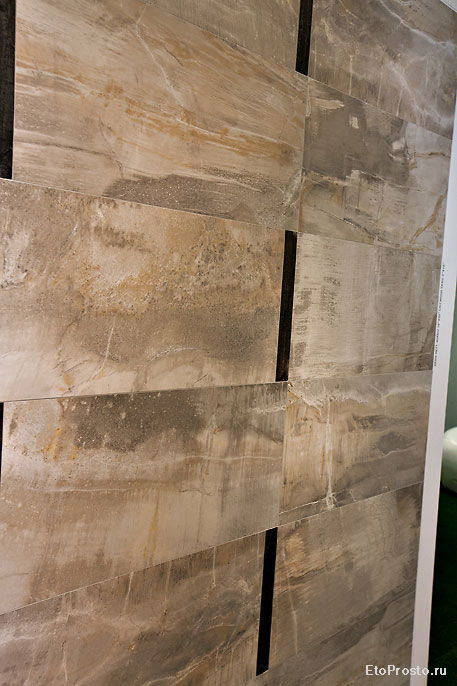 Imitation stone tile from АВК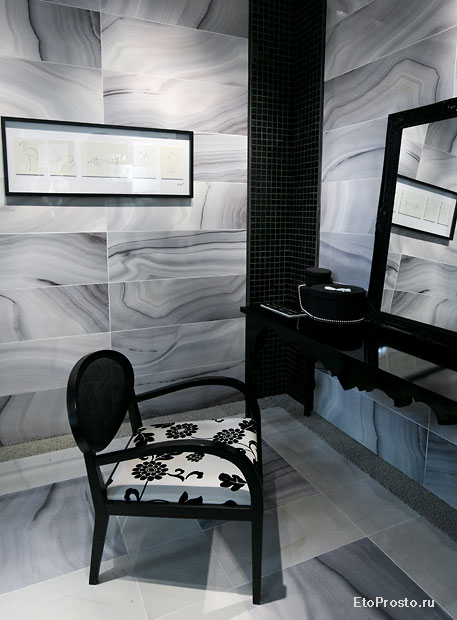 APE factory offered its own spin on imitation stone tile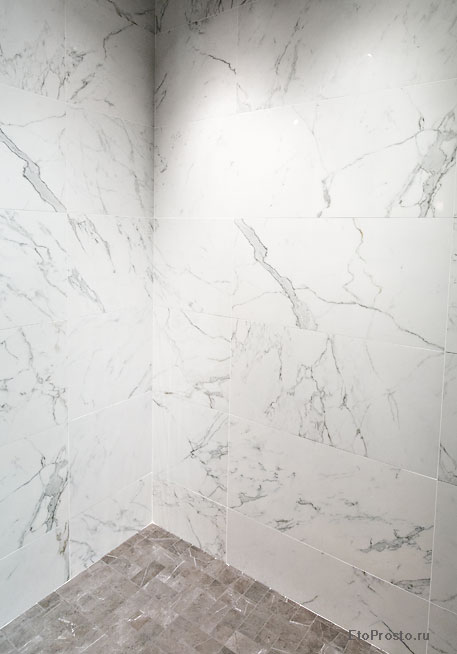 Imitation wall tile from Atlas Concorde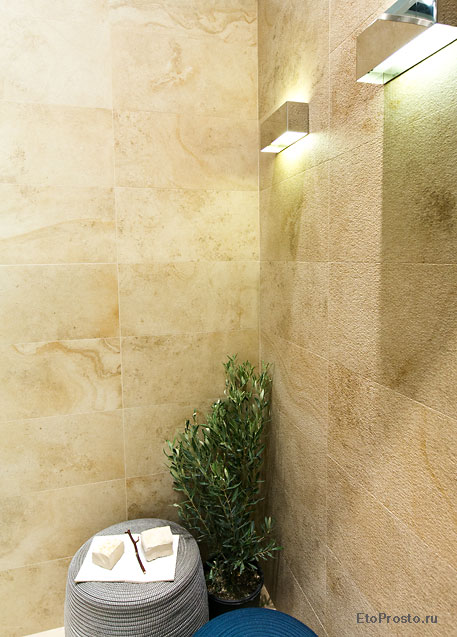 Imitation stone stoneware from Atlas Concorde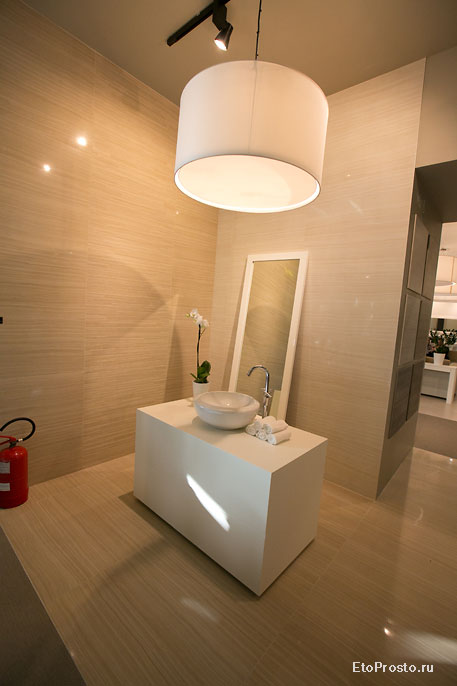 Imitation stone tile. New from Imola.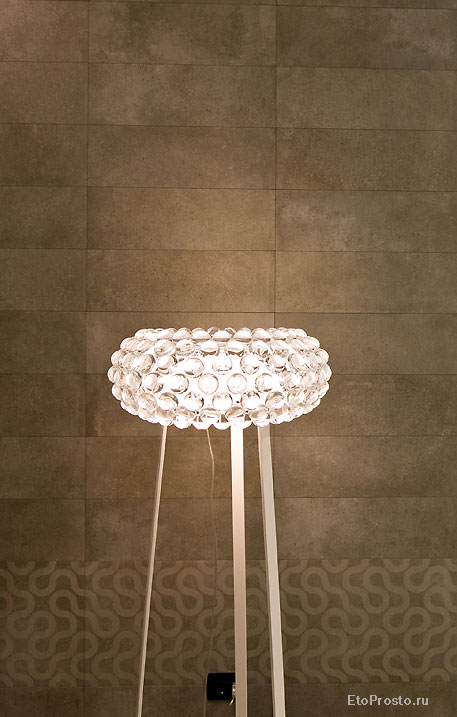 La Fabbrica with their look on imitation stoneware
Probably, the only manufacturer that deserves to be pointed out from the sea of imitation stone tile is Graniti Fiandre. We can say for sure that, today, the difference between stone and stoneware can be noticed by a professional, but Graniti Fiandre produces tile that cannot be easily differentiated from real stone. Usually, this difference can only be felt when this tile is touched, so you cannot see the difference in photos.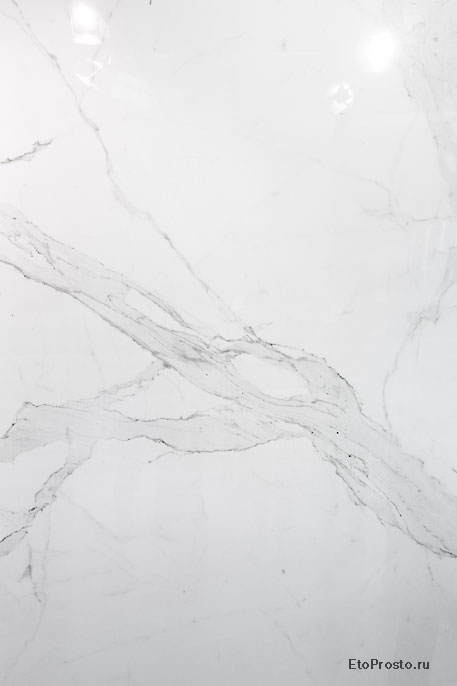 Graniti Fiandre. Imitation stone
Only if on this photos. You can see for yourself the range, depth and clarity of colors. It's beautiful!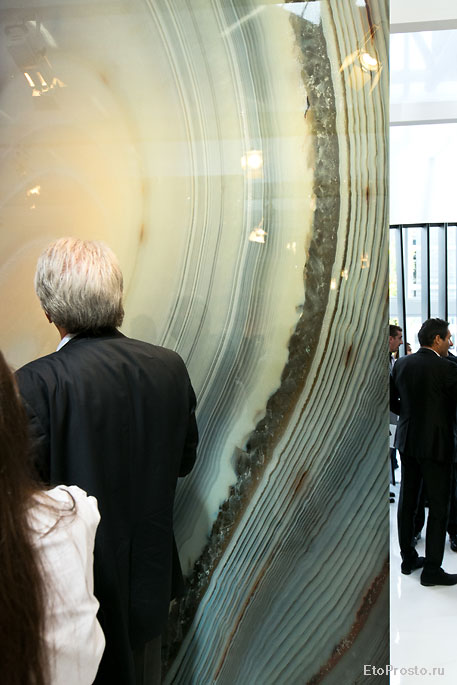 Graniti Fiandre factory
Continue your perseption in articles:
Cersaie photo review. Part III. Imitation cement tile
Cersaie photo review. Part IV. Imitation wood tile
and New from Cersaie. Part V. Volume decor