A kitchen backsplash is the vertical part of the wall between the countertop and the hanging cabinets. This is a visible area that often gets dirty, since it is located next to the stovetop and the countertops where you would prepare food. Therefore, the main requirement for a backsplash is for its practical and convenient maintenance. It should not easily stain, be easily cleaned, and have some temperature and chemical resistance so as to maintain its good looks. Lastly, it should, of course, bring joy to its owner.
So what types of backsplashes are out there?
1) Tile (or ceramic) backsplash
| | |
| --- | --- |
| | |
| Decorative tile for backsplash | Pylon tile for backsplash |
| | |
| Bardelli tile for backsplash | Bardelli patterns with white tile |
Advantages
Ceramic backsplash is the most common type of backsplash for the kitchen, since it is the most practical. Tile is a sturdy material, easily washable, resistant to water damage, chemical cleaning supplies, and temperature variations. Dirt and stains are significantly less visible on tile than on other materials, such as glass or plastics. A tile backsplash will serve you for years to come without any incident. Tile is also a heat resistant material, and you should seriously consider it if you have a gas stove.
In addition to the aforementioned advantages, tile backsplashes may be quite beautiful, since you have many options for color, decorative patterns, and panels in most collections. It is also possible to order a photographic finish on tile, and the resulting design will contain images that are dear to your heart.
Disadvantages
The primary disadvantage is the difficulty and the time consuming nature of the installation. You would need to hire a professional (or you have to want to install tile yourself), purchase glue, and grout, tile, and be ready for the work required to prepare the wall surface with all the accompanying materials for that. As far as the cost goes, a tile backsplash is more expensive than a plastic or an MDF one. Lastly, if you decide to ever take it down or remodel it, you would need to exert a considerable effort for chipping the tile or hiring a professional.
2) MDF backsplash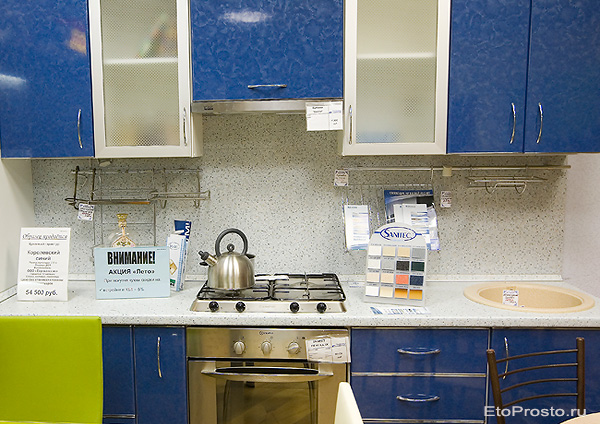 Most stores that sell kitchen furniture will carry MDF panels for backsplashes.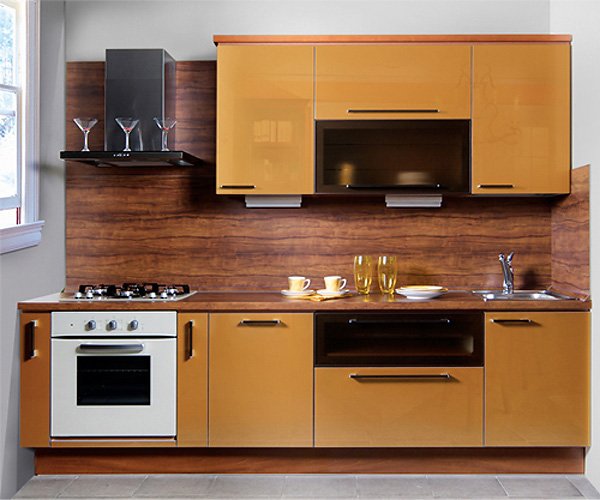 The panels usually complement the exterior surfaces of kitchen furniture.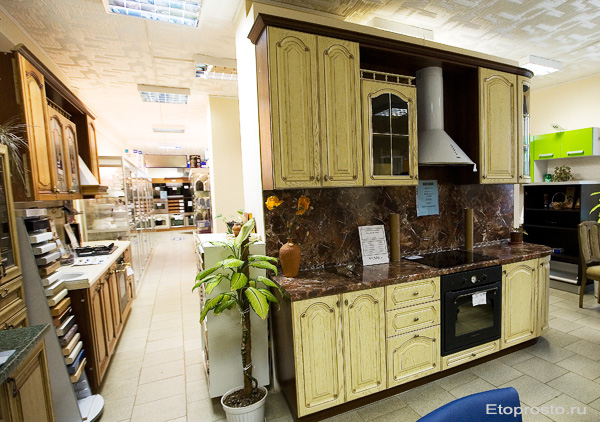 Advantages
An MDF (Medium Density Fiberglass) backsplash is a popular option due to its relatively low cost. Usually, MDF backsplashes are quickly manufactured and do not require large expenditures for installation.Often the installation service cost for such a backsplash is free. The service is provided by many companies that sell kitchen cabinetry and appliances, as long as you purchase the MDF panels from them. The installation is not difficult, however, and may be performed by almost anyone. There is no need to prepare the wall surface, either - an MDF backsplash attaches to a special frame with hooks, or, even simpler, is glued with liquid nails.
As simple it is in installation, an MDF backsplash may just as easily be uninstalled. It may be changed out quite effortlessly with time.One other advantage of such backsplashes is that they easily fit the design of the kitchen, since most retailers offer panels to match the color of the kitchen countertop. Even if you are not a master designer, an MDF backsplash that matches the countertops will guarantee at least a standard design.

Disadvantages
The disadvantage of such a backsplash is that with time, water and chemical cleaning agents may considerably damage the look of this backsplash and panels may begin to warp or separate. Unlike tile or glass, MDF may also catch on fire and release toxic materials in case of extreme heat. Aside from that, such a backsplash is difficult to decorate. Usually you would have a single panel with a standard design that will cover up the entire surface between the countertop and the cabinets. Therefore, esthetically-minded or trendy design - conscious owners will likely opt for other materials.
3) Glass backsplash
Advantages
Glass backsplashes for kitchens are a relatively new occurrence. Actually, such a backsplash is quite practical. It can be cleaned easily and is resistant to cleaning agents. The glass itself may be of many colors, and various photographic images may be slipped under it to create a uniquely designed space.
Disadvantages
The disadvantage is that glass, especially with a photo backing, may not fit well into all interiors, unlike MDF, which may simply match the structure of the kitchen furniture, or tile, which may easily match flooring. Aside from this, glass easily stains from evaporated water drops or spatter, and required constant wiping and buffing. Not every housewife will want to deal with this extra work when she is not actually cooking. And no matter what the glass backsplash manufacturers would have you believe about cultured glass, with time it will still scratch. And large contrasting pictures may get old after a while. Finally, the main disadvantage: the price of such a backsplash is fairly high (higher than MDF or tile, and even some mosaic).
4) Mosaic backsplash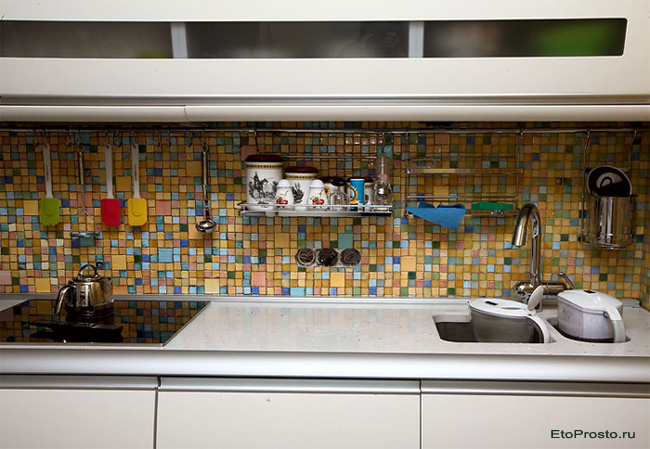 Example of a mosaic backsplash from Ker-Av.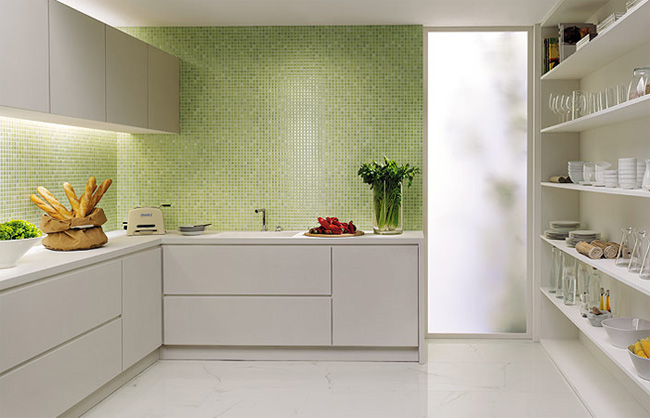 Example of a tile kitchen backsplash resembling mosaic, by FAP.
Advantages
Kitchen mosaic backsplashes usually have a rich, attractive, and unique look. Thanks to the use of various color schemes in mosaic sets, a unified and balanced design look between the floor, the cabinets, the walls, and all other kitchen wares may be achieved with relative ease. Mosaic allows you to add creative decorative accents and even photographs. As with tile, mosaic is resistant to temperature swings and moisture creep, and should serve you well for years to come.

Disadvantages
There are several disadvantages, such as the preparation of the surface for installation, the necessity to find a professional installer, and the cost of complementary materials. In addition, due to a large number of joints, you have to pay attention to the grout. It needs to be stain, moisture, and cleaning agent resistant, otherwise the joints will become darker with time by absorbing dirt and other particles, and the entire backsplash will look awful. A simple solution is to use an epoxy adhesive. It will last a while, but will cost significantly more, and the installation is a bit more difficult. One additional disadvantage is that a mosaic backsplash will cost more than a tile one, and certainly more than one from MDF. Installation will also cost more than tile. And to replace it, a substantial effort is required to pull it from the wall, or to hire a professional.
5) Plastic backsplash
Advantages
A plastic backsplash for the kitchen is an economical alternative for those who want to remodel the kitchen quickly and inexpensively.

Disadvantages
The disadvantage of a plastic backsplash is that it scratches quickly, may be deformed from moisture and chemical agents, and is aesthetically a loser compared to most other backsplash types. In addition, some types of plastic may expel toxic materials. A plastic backsplash is not fire resistant, and may release toxicity while burning as well.
6) Mirror backsplash
Advantages
This is an extreme option. The advantage of such a backsplash is the perception of a larger space, although not everyone may want to regularly see their face while cutting a piece of meat or to see not one, but two pots with burned food.

Disadvantages
The disadvantage is in functionality - such a backsplash is difficult to keep clean. It requires constant wiping and removal of stains. Steamed mirror backsplash would look awful. And the amount of dirty dishes would multiply many times over, especially in the corners.
7) Metal backsplash
Advantages
A metal backsplash looks unique and would fit well into a high-tech space. It is fire resistant, and the cost of a metal backsplash is reasonable.
Disadvantages
Metal will clearly show all drips and stains, so it needs constant wiping. In addition, the use of such a material in a space other than high-tech is problematic, since it carries with it an extremely cold and industrial look.
Before making the final decision, take into account the fact that the entire kitchen backsplash takes up at most several square meters, which begs the question whether it is worth to save money on it. And, of course, it is important that the decision be made by the person that would be spending the most time in the kitchen by the stove, and not a salesperson or even a qualified designer.