On October 25, the association of Spanish manufacturers of ceramic tile is participating in a seminar for architects and designers in Chelyabinsk (Ural Federal Area of Russia) entitle "Tile of Spain". This year, similar seminars have been held in Kaliningrad and Krasnodar, and have achieved tremendous success.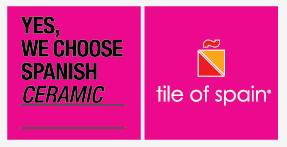 This event, organized by Econimic and Trade department of the Embassy of Spain in the Russian Federation, with support from ICEX (Spanish Institute of International Commerce) and ASCER (Spanish Association of Manufacturers of Ceramic Tile), is part of a broader campaign to promote Spanish ceramic tile on the Russian market.
At the seminar that will be held in Russian, newest trends in architecture and interior design will be presented. In addition, each participating manufacturer will be presenting as well. The event has attracted Azteca, Clorker, Ceracasa, Cevica, Keraben, Pamesa, Peronda, Saloni, and Vives and will be followed by an exhibition by the participating manufacturers.
It is expected that over 200 market professionals will participate in the seminar. These include architects, interior designers, distributors and the press.
See also:
Design and architecture competition Tile Story 2012
Просмотров:
6117
Cредняя оценка:
5
|
Всего голосов:
1
|