We've already written about a logo contest for Cersaie 2012.

Many of our readers took part in this poll. So which one of the pieces was chosen?

This year, once again, the prize of Cersaie went to the work of a lady. Grazia Piccininno is a student of the architectural faculty of the University of Genoa and specializes in the field of industrial design under the leadership of Professor Vannicola. Grazia became the winner of the second contest of ideas for Cersaie 2012. The topic of the exhibition this year is "Ceramic Evolution"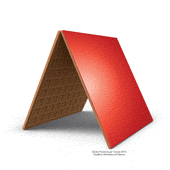 Grazia presented to Cersaie 2012 a simple and very effective project of a 3 D image that consists of two red tiles that lean on each other, forming a roof and symbolizing the combination of architecture and interior design.

This idea was recognized to best relay the spirit of the exhibition and the changing roles of ceramics and bathroom equipment. These tend to keep the tradition, while at the same time can adapt to many tasks and trends, which are desired by the market of today.
Просмотров:
4960
Cредняя оценка:
5
|
Всего голосов:
1
|