A famous international tile brand - Tile of Spain - has announced the beginning of its creative contest Tile Story, 2012, which it is holding together with Project Next. The competition is being supported by ICEX (The Spanish Institute for Foreign Trade), ASCER (The Spanish Ceramic Tile Manufacturer's Association), and The Trade and Commercial Delegation of the Embassy of Spain in Moscow.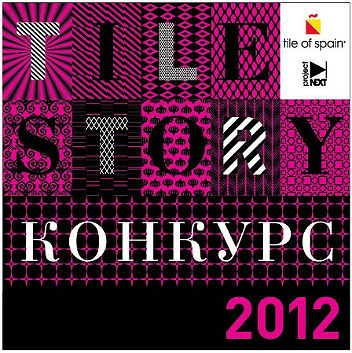 Participants of this competition, including designers, architects and students, will have to create a design of Tile of Spain's information booth for the international construction exhibition held in Moscow - MosBuild 2013. Traditionally, the booth of Tile of Spain is located in the center of the Spanish pavilion which, in its turn, for many years has been the biggest international exhibitor at MosBuild. The booth will have to attract visitors' attention and stand out with its leading and bright design that reflects the diversity of the Spanish ceramic tile.
The main objective is to create a functional space while creatively using ceramic tiles of at least five of the leading Spanish tile manufacturers. We should point out that this is the second contest of this sort - the first was held in 2010 and was so successful that the organizers decided to create a tradition of a competition between architects and designers. In 2010, there were fourty participants and the winner was chosen to be the project called "Another Point of View", developed by a Russian architectural bureau "Ar-Project", particularly Yelena Kukharskaya, Mariya Chestnova and Ivan Tulskiy.
This project was successfully marketed as part of exhibitions MosBuild 2011 and MosBuild 2012 and was widely covered by specialized press in Spain and Russia. The authors were invited to Spain to participate in the international exhibition of ceramics Valenica - Cevisama 2011. This year, the best project will bill become a part of MosBuild 2013 and the winners will also be invited to this prestigious exhibition, which will be held in February of 2013. Moreover, winners will receive special prizes from the project's partner - internet portal Project Next and Tatlin publishing house. Entries will be accepted until October 7th.
An instructional seminar, during which the organizers will clearly state all of the conditions of this contest, will go on at The Trade and Commercial Delegation of the Embassy of Spain in Moscow. Prior to the seminar, all conditions and the scope statement of the contest will be posted on projectnext.ru. Here you can also fill out the necessary registration information. The results of the competition will be announced on November 15th.