Tile is one of the most practical materials you can use for a backsplash. It's easy to clean and waterproof and withstands different chemical cleaning supplies and changes in temperature. But how do you choose tile to make a practical and beautiful backsplash considering that there are thousands of different options out there? Let's take a look at what you can do with a kitchen backsplash.
1) Traditional option - 10X10 tile
For some reason, in our country it is customary to use small 10X10 tile in the kitchen. This tradition has started during the Soviet Union and is still alive and well and it's almost impossible to change the buyer's mind on this point. Especially important is considered some kind of a fruit or flower composition, preferably a bulging one, in the center the wall.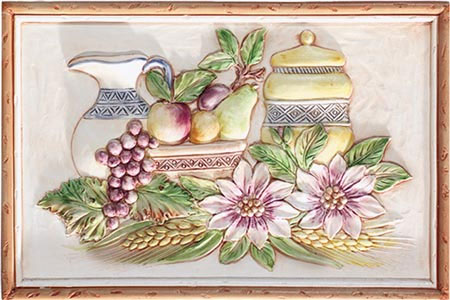 A bulging insertion from the Herberia factory
The problem is that this size of tile has almost stopped being produced throughout the world because for Europeans it looks old-fationed, is not sold well and is too expensive to produce. So everything you can find on the market is divided into three categories:
-old collections that are produced only for the Russian market and our closest neighbrors. You can find this tile produced by italian factories Emil Ceramica, Cir, Bayker, Del Conca, Herberia and Marca Corona (which also produces 10X10 tile for Atlas Concorde), german factories Jasba and Polish Paradyz. We should note that many manufacturers produce tile that is 30X30 and cut into 10X10 pieces (for example the german factory Agrob). Such tile is glued to a netting and looks like 10X10 tile, though is not rounded at the edges.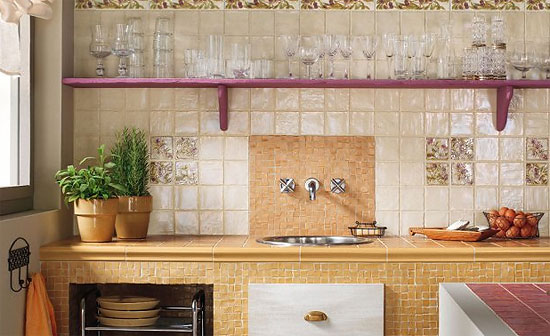 Example of a backsplash made from Italian tile by Marca Corona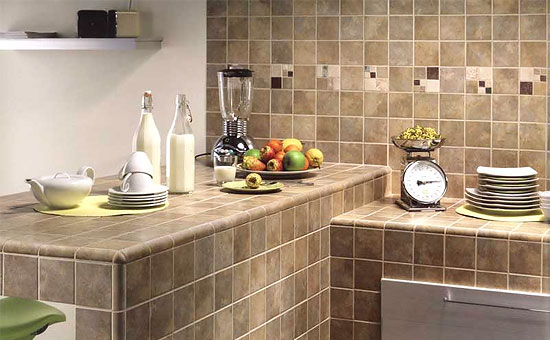 Example of a backsplash made from Italian tile by Bayker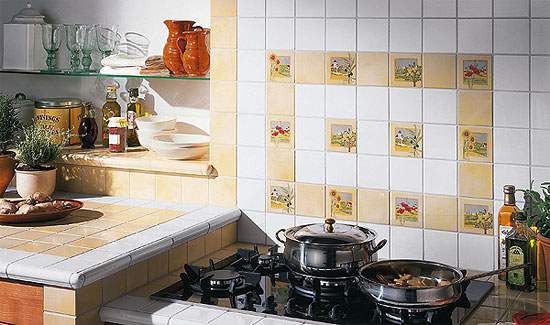 Example of a backsplash made from German tile by Jasba, Finesse collection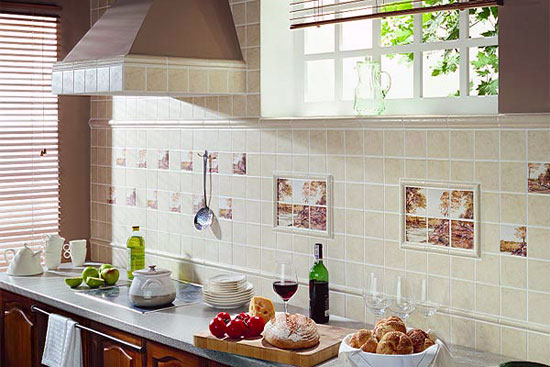 Example of a backsplash made form Polish tile by Paradyz
- English tile. Britain doesn't produce a lot of tile but what it does produce is traditionally small and with lots of decorations. English tile is not cheap but does attract a lot of attention.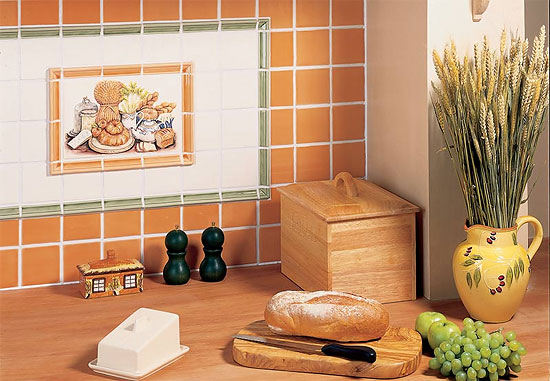 Original Style tile, La belle collection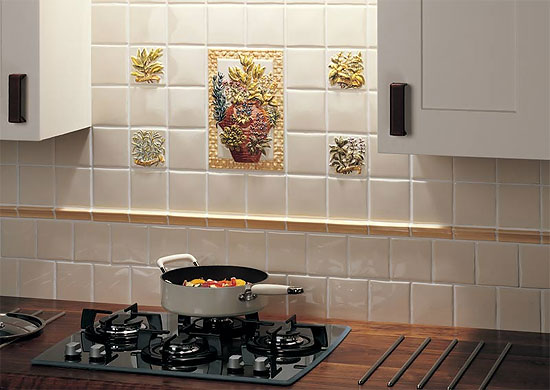 Original Style tile, La belle collection
| | |
| --- | --- |
| | |
| Insertion backsplash in all its beauty | Most of the time such panels are placed right above the stove, though this is not very comfortable during cleaning |
- Russian and Ukranian manufactured tile, like Kerama Marazzi - a factory that knows the preferences of Russian consumers and always manufactures new 10X10 collections. In reality this tile is 30X40 and is divided into smaller, 10X10 pieces. It looks accordingly.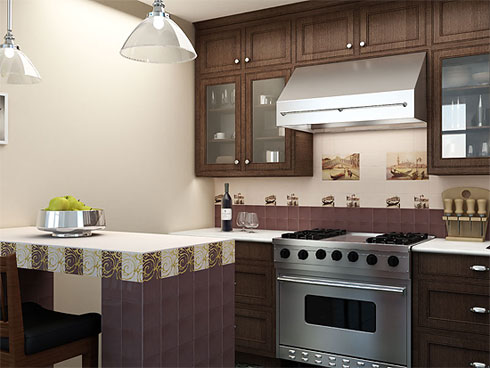 Parma collection by Ukranian factory Atem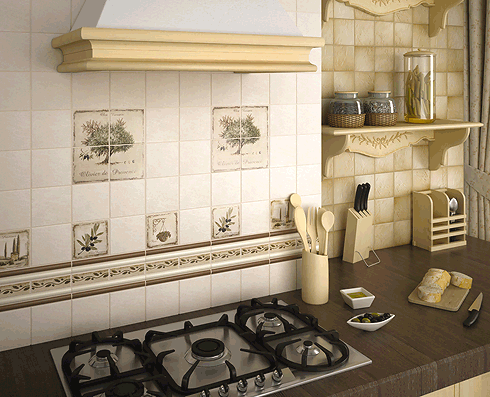 Provance tile from Kerama Marazzi
| | |
| --- | --- |
| | |
| Nice collection from Kerama Marazzi | Breeze collection from Kerama Marazzi |
2) Rectangular tile.
This type of tile looks like bricks and is a much more unique choice than 10X10 tile, though also not very new.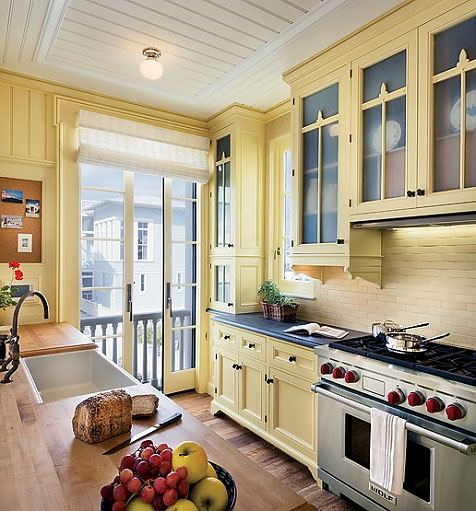 An example of using rectangular tile for a kitchen backsplash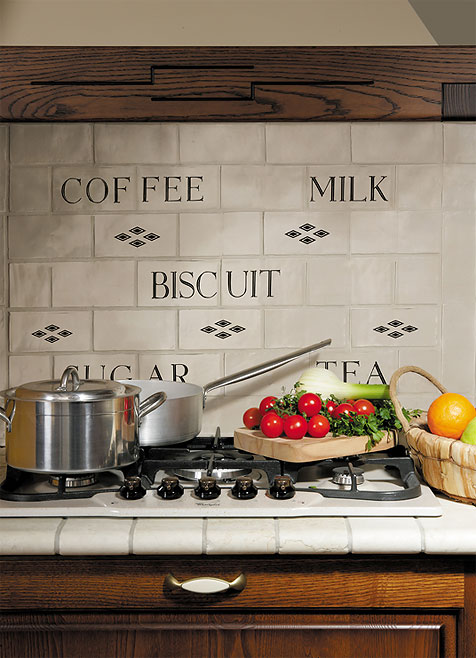 An example of rectangular tile form an Italian factory Self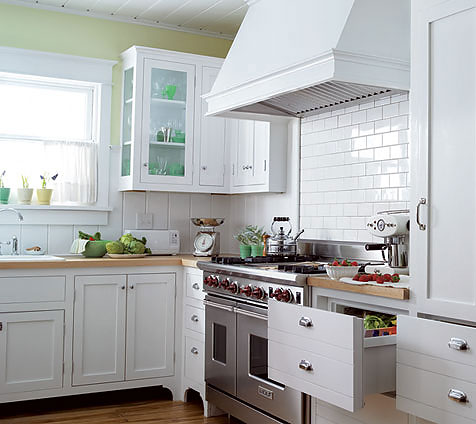 An example of using rectangular tile for a kitchen backsplash. The color of tile is the same as that of the furniture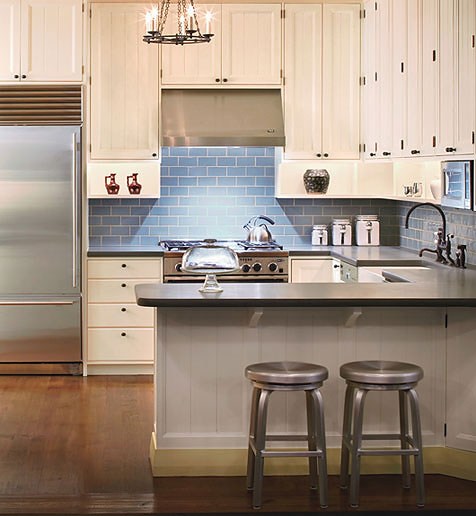 In this case, the color of tile is different than the color of the furniture. This is a design of a kitchen in New York by designer Ted Hayes
3) Mosaic and mosaic tile
To make a backsplash from real mosaic is fashionable but expensive - mosaic tile is much cheaper but not quite as diverse. This option has been very popular in the last years, but you have to consider that it's much harder to clean mosaic backsplash than tile backsplash, because there are a lot of uneven edges and surfaces (in cases of artistic mosaic) where dirt can peretrate. You should also be careful with the seams.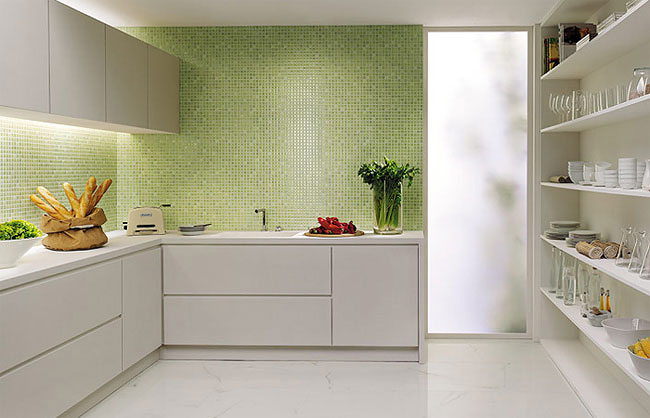 An example of using mosaic tile for a backsplash - FAP factory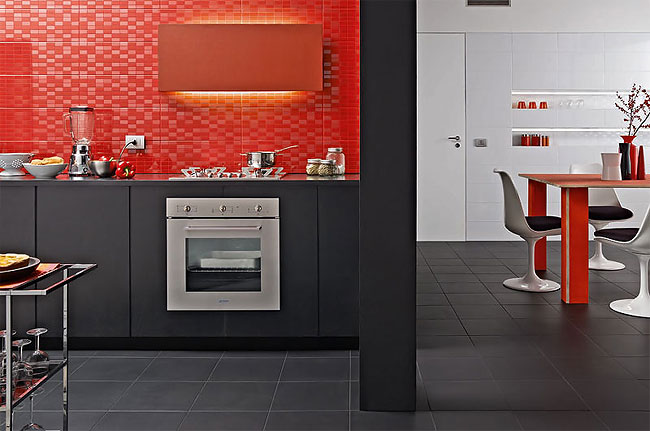 Mosaic tile looks very nice and is cheaper than real mosaic
4) Mid size tile with decorations
This is the option where you can be most artistic. First of all, there is a lot more of this type of tile out on the market than any other, including 10X10 tile, and there are a lot more options of colors. Second of all, you will be very different from everyone who still layes tile with inserted backsplash. There are also a whole bunch of options of decorations - practically any tile that can go in the bathroom can be used as a backsplash as long as you like it.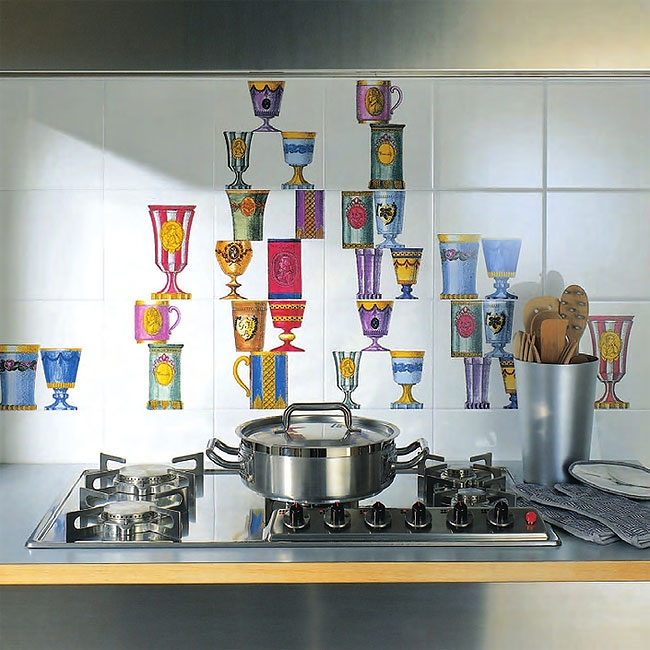 An example of a kitchen backsplash with decorations Bardelli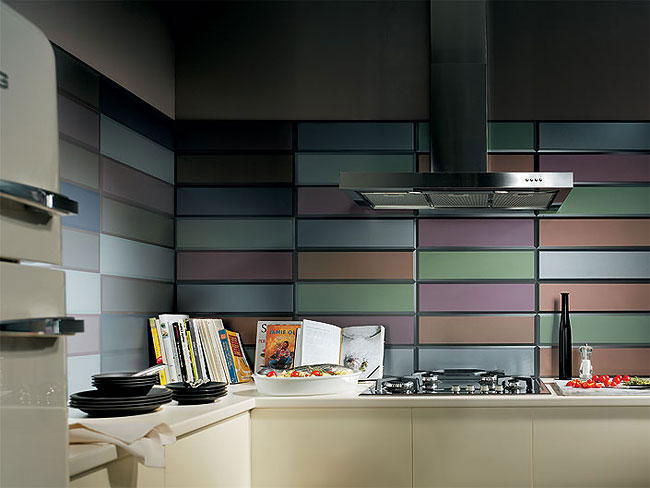 Multi-colored, mid-size tile from FAP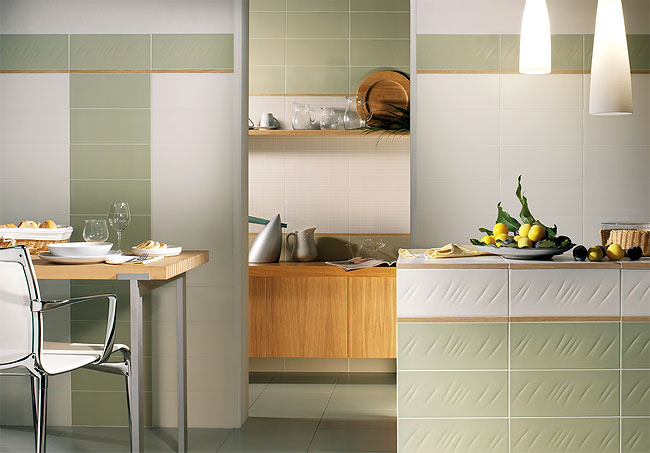 An example of a kitchen decor from Cerdisa. Sensazioni collection
| | |
| --- | --- |
| | |
| An example of an unusual kitchen backsplash. Tile from Bardelli | An example of 20X20 tile with borders |
5) Large tile and stoneware
This is the direction the world is moving in. There are many benefits to this type of tile: first of all, it minimizes the amount of seams, which means that it's easier to clean, there are less chances of mildew formation and simply the appearance of dirty seams between tiles. Besides, it's easier to cut tile of needed sizes from larger pieces. As far as stoneware is concerned, then we can tell you that this is an even more practical material than tile - it doesn't absorb moisture and is especially resistant to wear and chemicals, so even if you persistently rub it with poisonous chemicals, nothing will happen to it. Stoneware will forever remain just as beautiful as it was at the time of installation.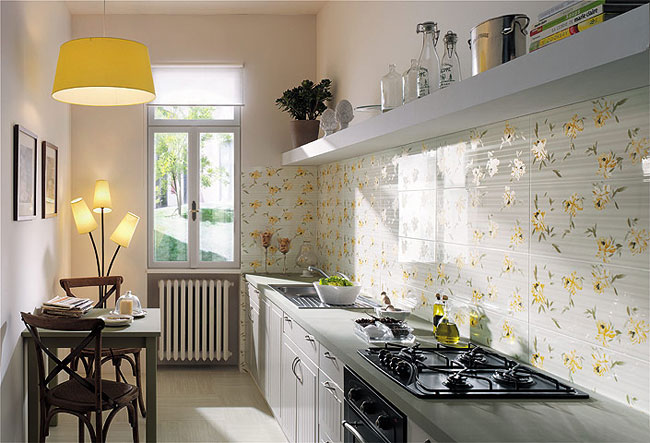 An example of using large decorative tile for a kitchen backsplash by FAP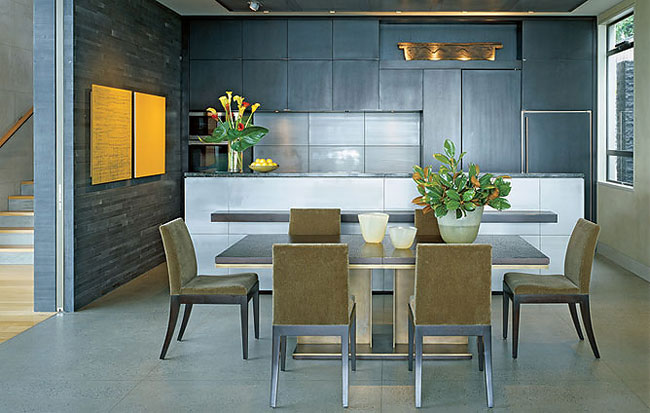 A kitchen design from New Zealand. Polished concrete on the floor and a stoneware backsplash. Terry Hunziker design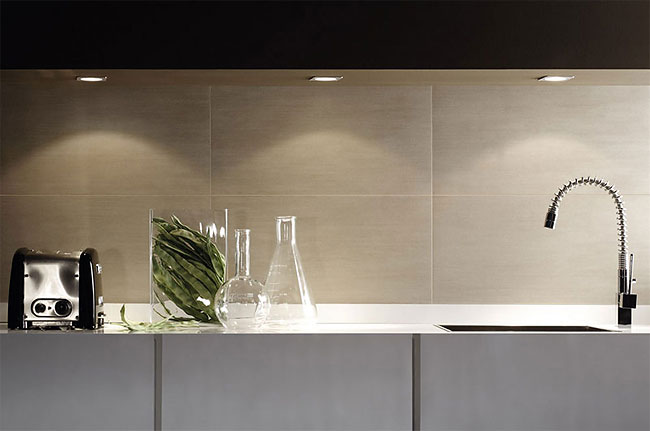 An example of using large size tile for a kitchen backsplash by an Italian factory Marazzi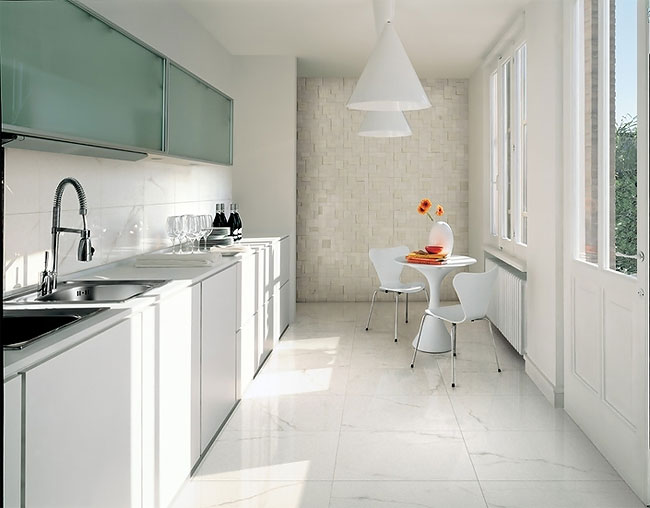 A large size tile kitchen backsplash with matching floors. An example from an Italian factory FAP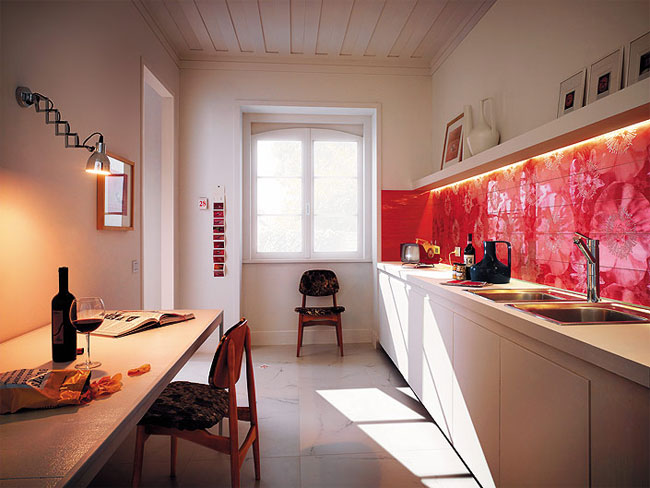 An example of using large decorative tile for a kitchen backsplash by FAP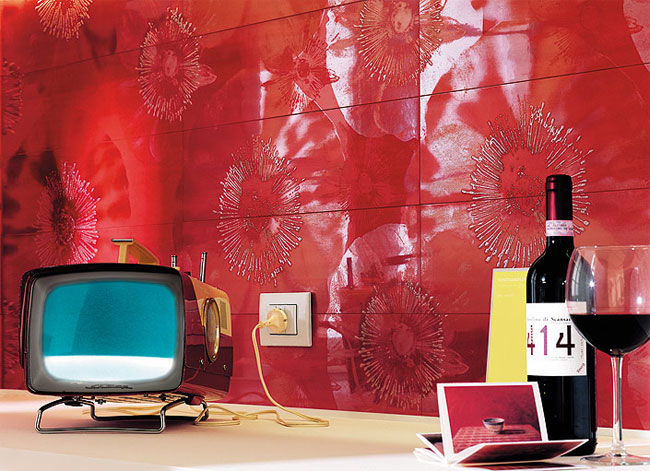 This tile looks much more unique and fresh than traditional 10X10 tile
There is a lot of different size tile on the market that is truly beautiful, but you should choose the one you really like without paying much attention to the size. There are no rules that say you should only use small tile for your kitchen backsplash.