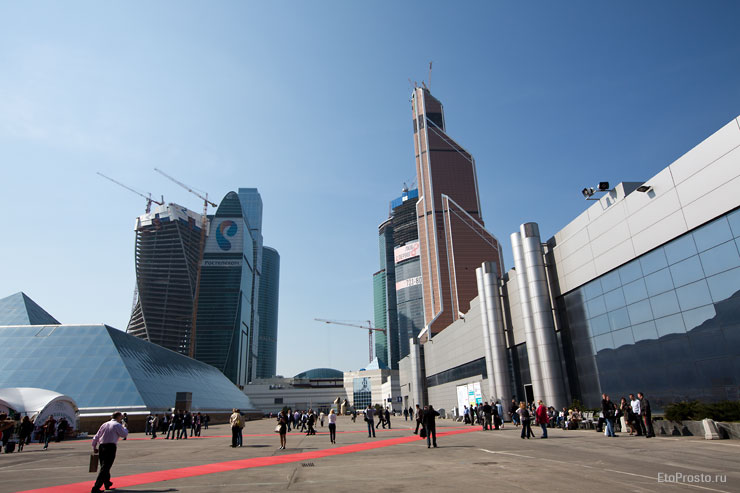 The largest Russian exhibition of ceramic tile - Cersanex Mosbuild 2013 - ended on April 19th in Moscow. The Russian market is a life-boat for most European tile manufacturers, due to the fact that there is a financial crisis on the continent and sales have plummeted and only in Russia they have been going up for several years now. This is why all of the largest factories in Spain, Italy, Portugal, Poland, Turkey and the CIS countries, hoping to make some money, have been exhibiting their products (which they find most promising for the Russian market) at MosBuild. Let's take a look at what was going on this year.
Tile for the Russian market
The Russian sould remains to be mysterious for foreigners - in most European countries, for a collection to have good sales, it is enough to have the background: beige, or gray, and simple decor of sad flowers, if you are talking about Scandinavia, for example. In our country, eferything is different - people need decors that are gold, for example, something that makes Germans go nuts! Having heard a lot of stories about luxurious decorations, the Italians and Spanish have thought about it, collected some things and decided to take the business of selling to the Russians seriously.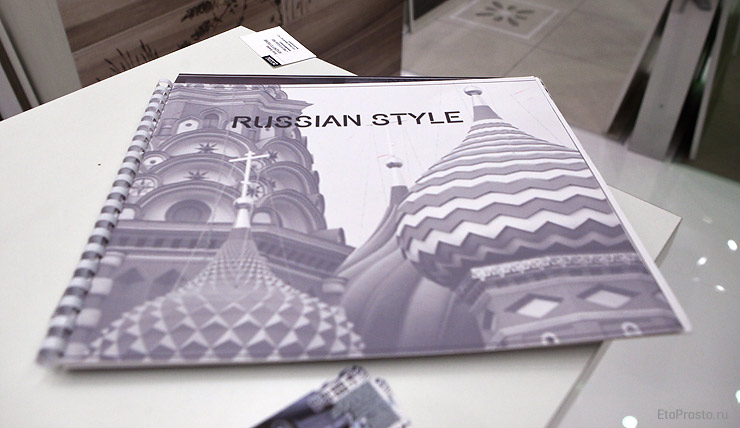 It seems that having studied the only Russian architectural masterpiece known to them (the image of St. Basil's Cathedral), some of the manufacturers decided that Russia is a wonderful, partially Arabic country. And what can be sold in an Arabic country? Ciphers, of course.
Tile with ciphers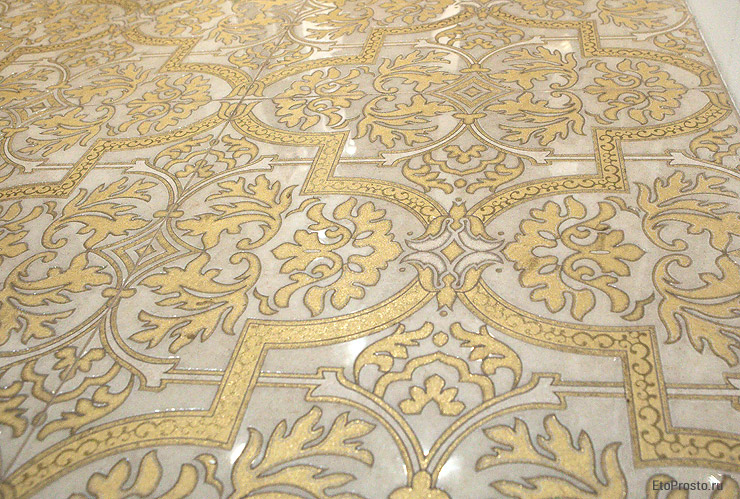 The Cisa factory, golden ciphers of the Evoluzione collection
Cipher collections were solemnly exhibited as those, that were created especially for Russia. Such luxury can be installed on floors, or walls. whichever you prefer.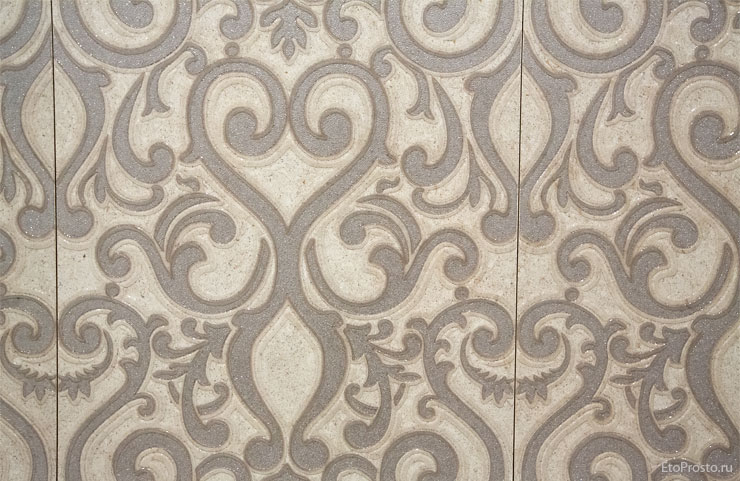 CIsa Evoluzione tile in gray shades, wall installation option
The Russian consumer will be able to install such modest ciphers in his/her bedroom. But not all of them were so simple, there were quality ciphers, as well, with golden patterns, which could greatly fit into a living-room, dining-room, or office of the Russian consumer.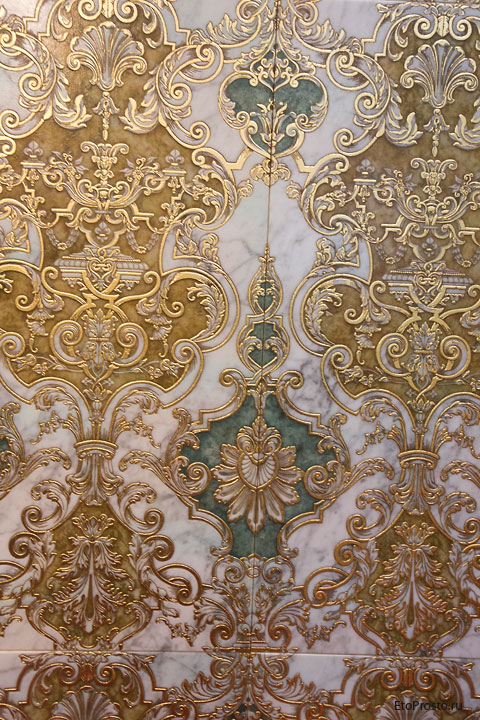 Aquaforte factory
A great find for the Russian interior - a golden Boyar style chair.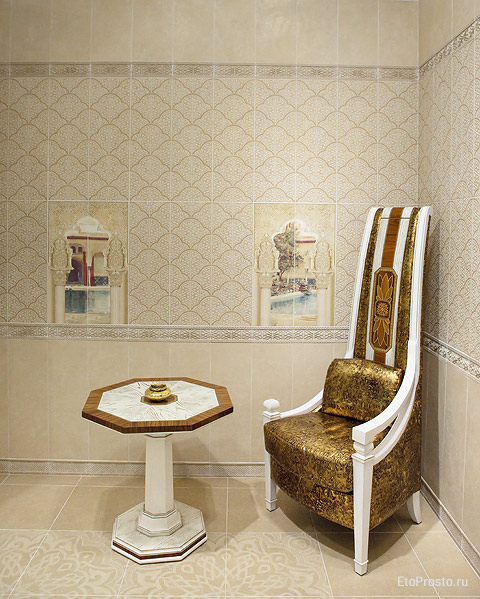 Newker factory
The Russian brand - Orro mosaic - was completely solidary with the international manufacturers.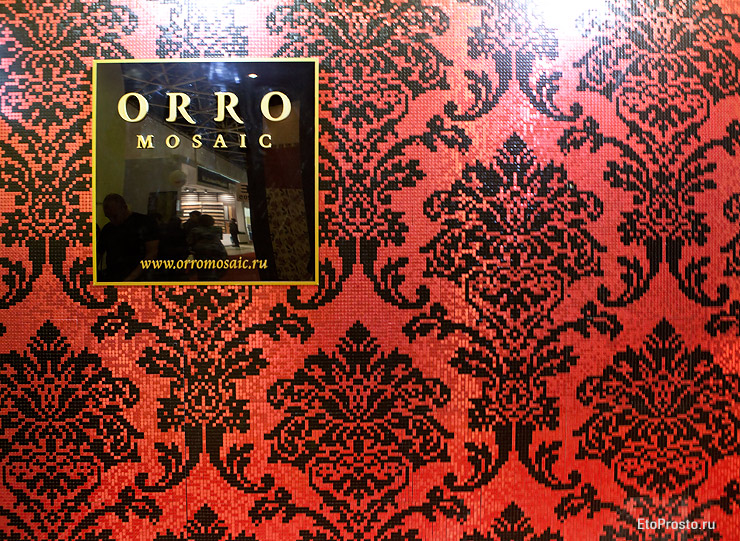 Orro mosaic
Even the Germans have brought ciphers - Villeroy&Boch (it seems that the fact that the factory is controlled by a Turkish holding group, which includes Vitra, helped with the decision on ciphers)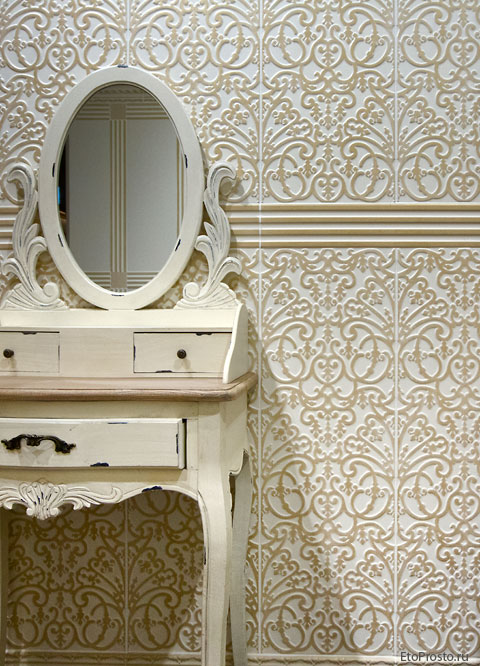 tile from Villeroy&Boch - contained German ciphers
A compromising option - a border with ciphers. Though there aren't many of them, they are gold!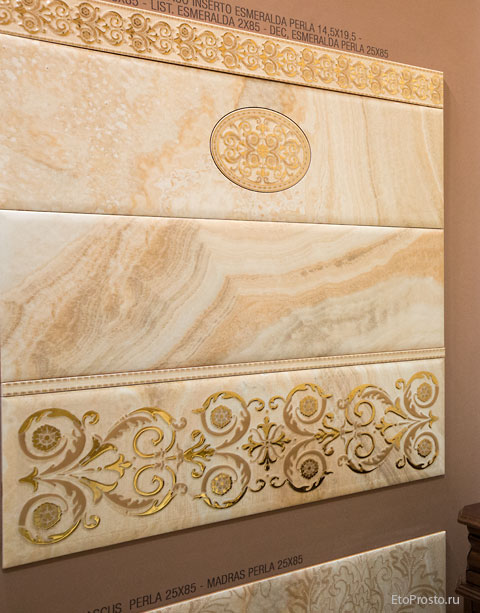 The Spanish cipher version - Pamesa
In some cases, obvious ciphers were changed by intricate images. According to the manager of the booth that is located next to Lithos mosaic booth, several hundred visitors took their photos next to the panel shown below.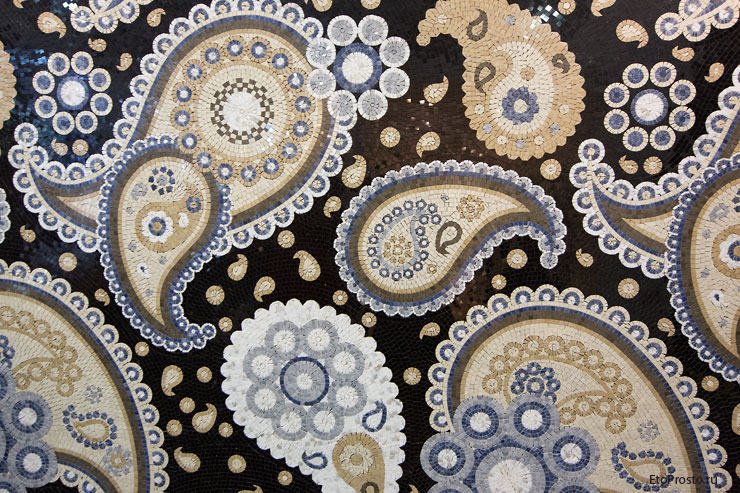 Lithos mosaic
Besides ciphers, there definitely should be a panel, a rug and an insertion.
A tile panel
Ideally, a good rug should emphasize the theme of ciphers.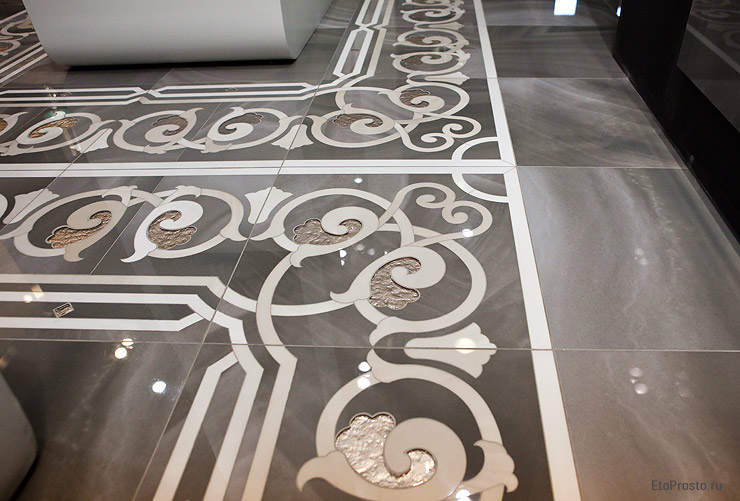 A rug made from Ceracasa tile
Or simply look rich and be the center of the house.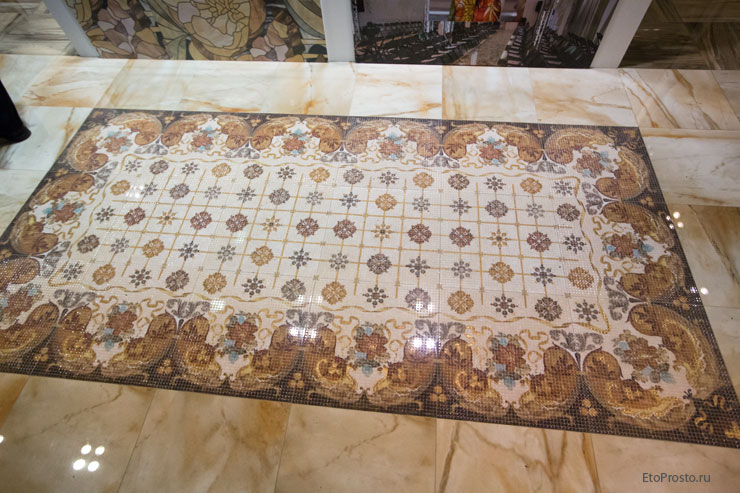 The Spanish factory Peronda
In reality, panels and rugs made of tile are not made for the first year for the Russian market, but this time they have gone further than usual. With the spreading of digital printing, rugs have become more colorful than ever.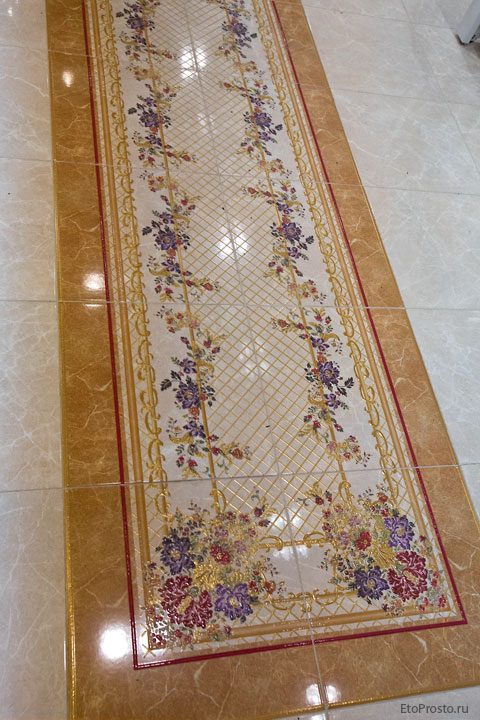 The Spanish factory Pamesa tile
As far as rugs are concerned, the Spanish have long outdone the Italians. While the Italians have been arrogantly talking about how Spain is not doing so well, and that Cevisama is not the same, or that the prices for Spanish tile are falling throughout the world and Americans are buying less and less Spanish tile, the Spanish rolled up their sleeves and printed such a large amount of rugs and insertions that you almost couldn't see Italian booths among them.
Just several years ago, the cost of such a panel would have been more than the cost that you are willing to spend on a renovation project. But nothing lasts forever and new technologies now allow the printing of anything at a much lower cost.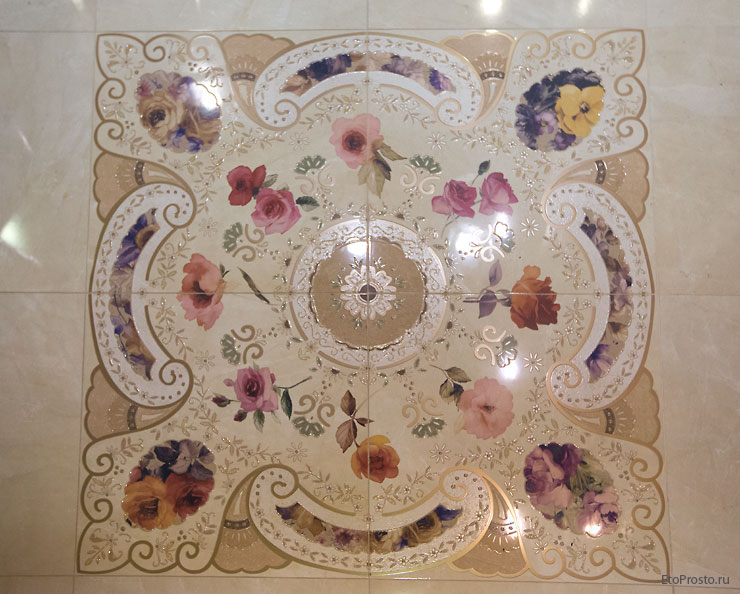 A panel from the Spanish factory Argenta
Of course, not everyone has had time to print colorful insertions for this exhibition. Just you wait - next year, such gray decorations will turn into colorful flowers!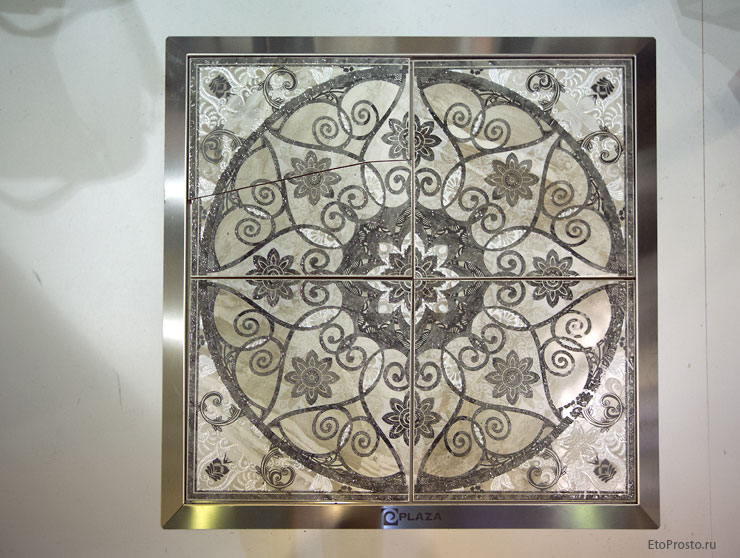 The Plaza factory, Spain
In general, the exhibition was more colorful than any previous ones.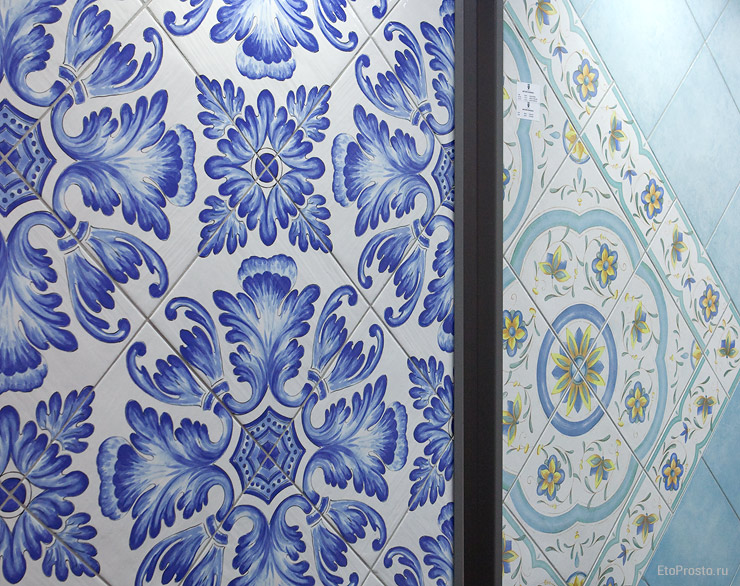 Savoya factory
You may ask why we show only the Spanish or Italian tile? Where are the works of Russian manufacturers? Well, here they are: Kerama Marazzi did not wait aside - the leader of the Russian market has shown its last developments to the exhibit visitors.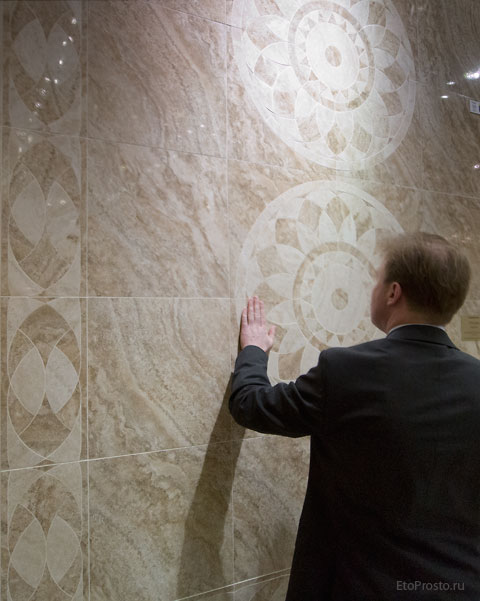 A Kerama Marazzi insertion
Of course, there were not just floor tiles. As soon as you wish, the head of Medusa will be staring at you from the side (you can even throw darts at it on a boring day).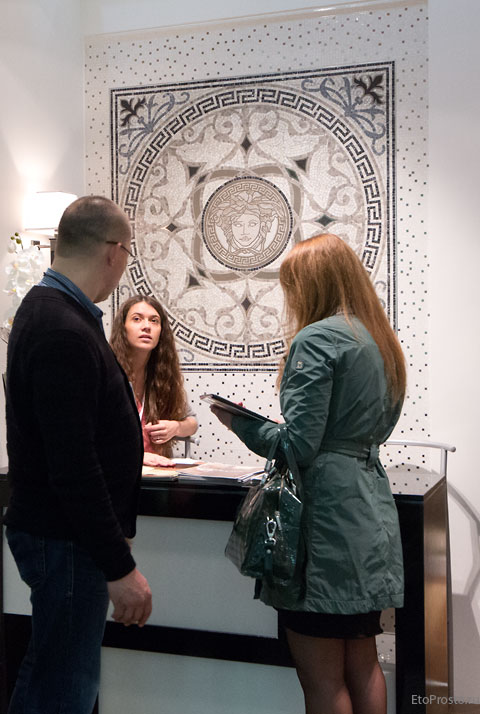 A panel by Versace, created by Gardenia Orchidea
Wonderful Greek creatures, resting (what else can you expect from the Greeks?) in a paradise garden were made by the Spanish factory Pamesa especially for the Russian market. Globalization!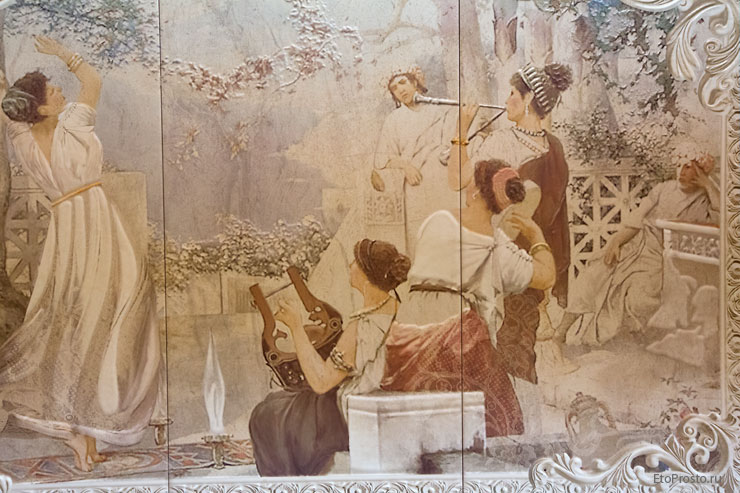 A panel made from Pamesa tile
By the way, these wonderful girls were accompanied by a lively flower print. A paradise garden and perfection.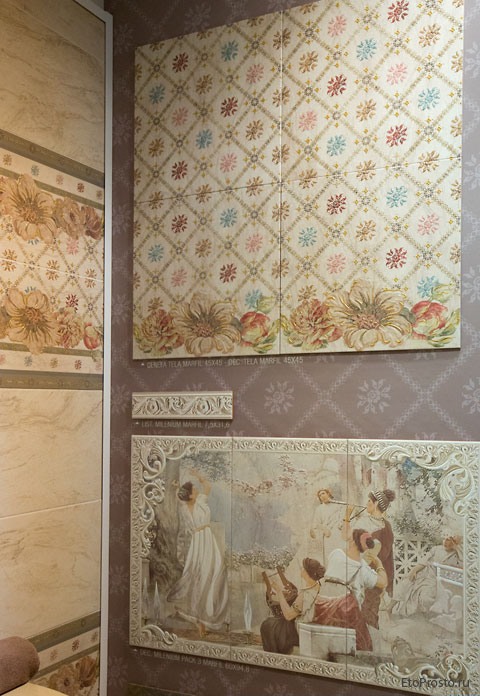 Multi-colored design and a panel from Pamesa
Of course, besides ciphers, panels and insertions, there was a lot at the exhibition. You can read the continuation of this article, which will come out in a couple of days.